Where can aussies bet when Pinnacle & others leave our shores?
Last week in my monthly post, I said that with the new laws coming in, it would be much harder for winning punters to get a bet on in 2017. I had assumed that most of you knew about these new laws and what they would mean. But I was inundated with emails asking about it and what can be done.
Just in case you were not aware, the Interactive Gambling Amendment Bill 2016 was presented before the house of representatives last year and is likely to be passed in the coming months. The main point for us sports punters is that offshore bookmakers are explicitly not allowed to offer their services to Australian customers. Online In-play betting has been explicitly disallowed and Australian bookmakers can no longer offer it. There was no mention at all about a minimum bet law.
The bill itself is for all Gambling (casinos, sports, poker) and it's main aims are for the government to receive as much tax as possible and to protect vulnerable gamblers. For those of us who can not bet with Australian bookmakers because they deem us to be "uneconomical", well we are down around 183 on the list of concerns for the government when it comes to the Interactive Gambling Bill. It will be a few years before they even look into a minimum bet law.
So we are stuck. We can't bet with the Australian bookmakers, and the legitimate offshore bookmakers who are fully regulated also won't let us bet with them. In essence, we have been told that if we dedicate our time and effort to betting and find an edge, we can no longer bet.
What's likely to happen?
So when the law does pass, what will happen? We can have a look at the UK as an example. In 2014 they passed the Point of consumption (PoC) tax. This tax meant any gambling company that wanted to service the UK would need to get a license and pay 15% of gross profits from UK customers. Most of the sharp books (the one's that allow winners to bet), closed all UK customers accounts and left the market.
We can expect the exact same thing to happen with the Australian market. The legitimate offshore bookmakers will leave and the dodgy ones will stay and fill the gap in the market. What this will do is create even more problems as more and more people who are unable to bet with Australian bookmakers will be forced into betting with these dodgier offshore bookies and increase the risks of never seeing their money again.
There are really only a few offshore bookmakers Australians really want to bet with. Those being Pinnacle and a few of the asian books. These books have high limits and take bets. Pretty much what a bookmaker is meant to do. So how can we make sure we can continue to bet with them when the new laws pass?
Note: It is not illegal for an individual to bet with an offshore bookmaker, it will only be illegal for these bookmakers to offer a service.
How to continue using offshore bookies
For most successful punters, we will have ways to make sure we can still get our bets on. But if the bookmaker does close access to all Australians, we are left with a few options.
Leave the country.

The world is a big place and the internet has made it possible to live anywhere and stay in contact with friends and family. There are many amazing places all over the world that are nicer and more affordable than where you are living right now. Personally, if I made my living from betting, I'd move to Europe. You will have to deal with visa issues and so on, but it is possible to pack up and move to another country (although a bit extreme). A VPN will not help in this situation as you will also need an overseas address.

Find a Friend

No, I'm not talking about the app on your Iphone you use to track your girlfriends whereabouts. I'm talking about getting a friend/family member who lives overseas to set up an account in his name for you. This option is a bit iffy, as you would first need a friend who lives overseas, and secondly be able to trust that friend (and have the friend trust you). I would not reccomend this option.

Use a Bet-broker/Agent

This is by far the best option. There are a few reputable companies that are now filling this need. A Bet-broker provides a single account to a customer and allows them to bet at all the big offshore books. It means you can have the one central bank and place your bets at whichever bookmaker has the best odds. They make their money by getting an affiliate commission from the sportsbook based on turnover.

The Software many of these services use have continued to improve over the years and it is very impressive. Some of these companies also take bets over instant messaging services (Skype). Most pro bettors already use one of these services to get their bets on. It saves them time (searching for the best odds, logging into sites and finding the market), and the hassle of moving funds around.

The main concern many new users would have is if their money is safe. All of these companies are fully licensed just like the offshore bookmakers. But as always, do as much research as possible before deciding if it is right for you.

Note: Any or all of these services may decide to also not accept Australian clients when the new laws are passed, so it would be a good idea to have accounts with as many as possible.

Note: The links below are affiliate links.
Sportmarket Pro
I have talked about Sportmarket before. They continue to improve their product and I feel it is the best option. The software is set up to look like a typical bookmaker, but when you click on an event, it shows you all the odds from the bookmakers on their platform and how much you can bet. This makes it easy to get the best possible odds and for 99% of us, we can get our entire bet on.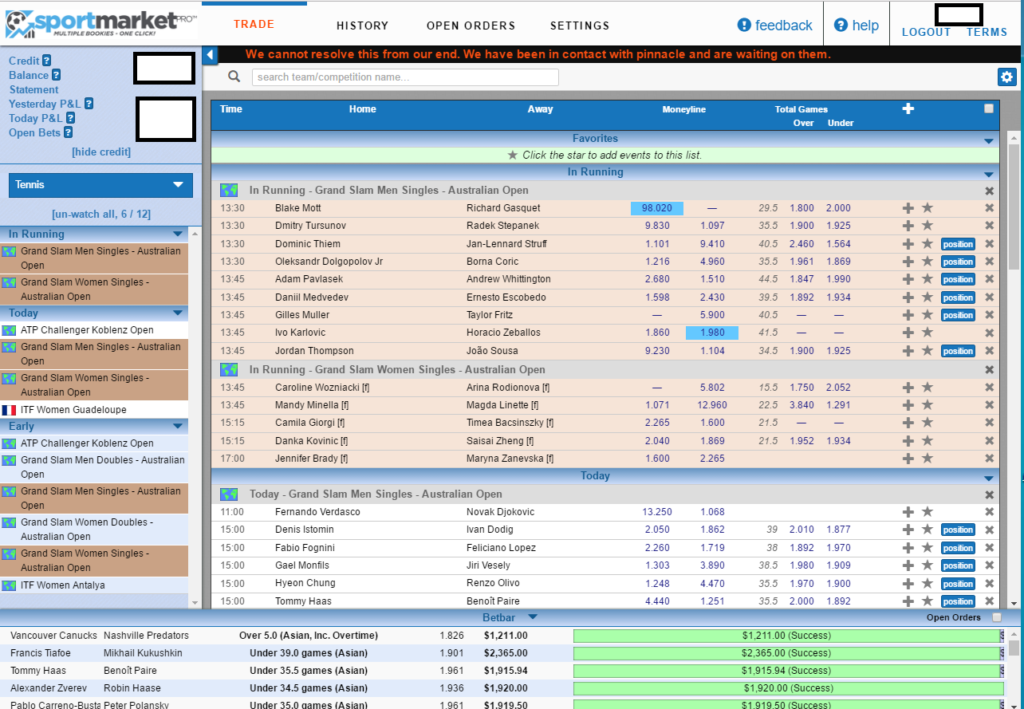 Sportmarket does allow accounts in AUD and you can deposit & withdraw via Bank transfer or ewallets. It offers all the major sports and continues to add new ones. Another advantage is that you can do your in-play betting via the platform and any bets placed on Betfair through their platform has a 2.3% commission rate. So if you are premium charged, it makes perfect sense to bet via this platform.
The bookmakers on their platform are Betfair, Betdaq, Ga288 (GalaxyBet), IBC, ISN, Matchbook, Pinnacle, SBO & Singbet.
You can sign up to Sportmarket Pro here.
AsianConnect
Asianconnect offers a very similar service as Sportmarket, with a few other options. You can use their platform (just like Sportmarket), or you can use their skype service. It initially feels strange to place your bets over skype chat, but it works pretty well. You let them know what match you want to bet on and how much and they come back with the odds they can get for you.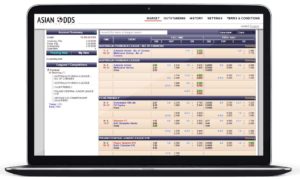 They currently only offer EUR & GBP accounts, but you can deposit via ewallets, bankwire and Bitcoin. Bitcoin will continue to grow in the gambling space and this will be a great way to move around funds very quickly.
Asianconnect has told me they are not affected by the upcoming Australian law.
You can sign up to Asianconnect here.
Other Brokers
There are a few other brokers, but they are only for the larger bettors (min $1k per bet). If you do bet more than that, don't hesitate to get in contact with me via the "Contact Me" button on the right and I can let you know about these other options.
Sad state of affairs
It is a sad state of affairs we find ourselves in. It's great that the government is looking to update the old gambling laws, but they really don't seem to grasp the dire situation for the profitable bettors. By not introducing a minimum bet law, they are essentially condoning the conduct of the bookmakers who are registered here. A minimum bet law means we could all trust that our bets would be accepted by Australian licensed companies, that they would pay product fees, GST and taxes and we would not be at risk of losing our money when forced to send it offshore.
For many of us, all this effort is just not worth it and many people who love to punt as a hobby and happen to be good at it will simply quit, leaving only losing & problem gamblers. These new laws will not produce the desired effect and I believe it will actually make the problem worse. The next few years will be a poor time to be a profitable sports bettor, but we will eventually get there, and in the 2020's I believe if anyone wants to place a bet for a decent stake, the bookmakers will be forced to accept it. Until then we continue to adapt.