An open letter to Christian Porter and Barry O'Farrell
Dear Scott and Barry,
It was great to hear there will be a review of the Interactive Gambling Act. It was passed at a time (2001) when the Internet and online betting were in their infancy and a lot has changed since.
Over the past week there have already been some worrying signs. Firstly, any sort of review into the advertising side has been ruled out and now it seems the main target is off shore betting companies. It seems the Australian Wagering Council (AWC) are doing a great job of deflecting the real issues and like a good magician, diverting your attention to something else while behind your back the real trick is happening.
Over the coming months you will hear a lot said from many different groups, each with their own interests and agendas. In these situations the one's with the most money (bookmakers) have the loudest voices and the ones most likely to be affected (the average punter) have the smallest voice.
As the Minister for Social services I understand your main goal should be to protect problem gamblers. I have been an advocate for regulation for a long time and have helped Financial Counselling Australia (FCA) in writing new legislation to help problem gamblers. Their report "Duds, Mugs and the A-list" has some great recommendations. Stricter controls on credit betting and a self-exclusion website are very simple and clear wins here. I am also working on software that will allow punters to know exactly how much they have won or lost from betting (information the bookmakers do not give out freely) in order to help punters bet more responsibly.
My own personal experience with problem gambling started when I was 18 and I started playing the poker machines. I lost hundreds of thousands in my early 20's and fortunately for me I looked into the maths and psychology behind the games and realised that I was never going to win. Most gamblers are not so lucky. I do not have much to say about the poker machine side of the issue, but do have a lot to say about the sports betting side, which is growing faster than any other segment.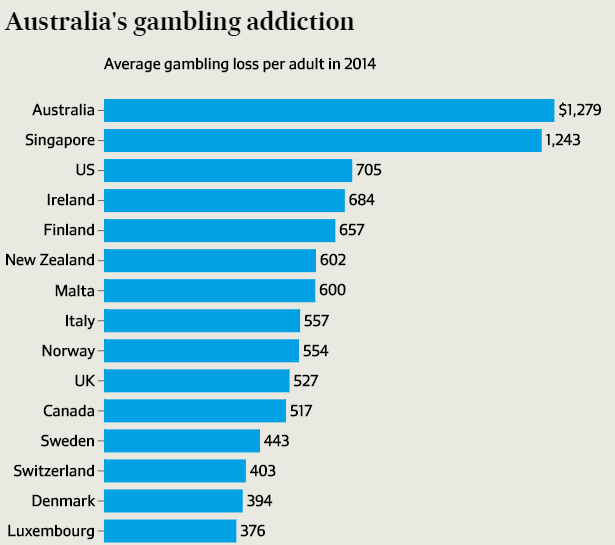 I know you and Barry would have been over the numbers, but it bears repeating for the others reading this. We are a country of gamblers, there is no denying that. It is part of our culture. Last year on average every single Australian lost $1,279 betting. There are 3 main areas we bet. The lotto, poker machines and sports betting. That is a shocking number. Apart from Singapore, no other country comes close. We excel at many things as a nation, but that is one leaderboard we should not be happy to top.
A little about me
I'm your average aussie dad who likes to bet as a hobby. I see it as a mental challenge and believe that given the chance, I can use skills in maths and other areas to make a small profit from betting. I am a bit different in that over the past 5 years I have managed to make a profit. The numbers thrown around are that only 2-5% of people make a profit from betting. I don't always win, over the last year if we added my sports betting and Horse race betting together, I made a loss. But I am what the bookmakers see as the enemy. Over the long term I will not make them any profit.
I am part of a new breed of punter who loves data and technology and the bookmakers in Australia want nothing to do with us. What may be surprising is that the bookmakers simply stop any customer they do not see as "economical". Which simply means, they stop people from betting who might win. Forcing us to place bets in the scary unregulated off shore world (it's not really scary).
What the bookmakers do
When watching television we are bombarded with advertising from these bookmakers. They all are selling us the same dream. Bet on the sports you love watching and win money doing it. How can they go wrong selling a dream like that. The Lotto does the same thing, but the difference is that for at least 1 person, the lotto dream can actually become a reality. Sports betting companies are advertising something that they spend millions on to make sure can never happen.
There are two articles on the site that show the extremes these bookmakers go to in making sure no customer can win money from them. One is from a current worker at one of Australias biggest bookmakers. You can read that article here. The other is from a former employee of a sports betting company and can be read here. These articles both show the enormous amount of energy that goes into profiling every customer and banning any of the ones that might win. For the ones that they deem will be losers, they will offer them unlimited credit, bonuses and let them bet as much as they want. Bookmakers make sure the dream they are selling remains exactly what it is.. a dream.
For many in the general public this might come as a shock, and upon hearing that bookmakers ban winning customers the usual response is, "surely that is illegal". Sadly it is not, but I agree, it should be. I know of very few businesses that are allowed to discriminate against the public in this way.
Unlike poker machines, sports betting is a game of skill. With a lot of effort and skill, sports betting is a hobby that can produce a return. If I took up painting or a sport as a hobby and over the years dedicated time and effort and got really good, I could profit from my hobby. It seems with sports betting, if you get good at it then you are no longer allowed to do it.
What they will say
The AWC is the figurehead for many of the Australian bookmakers and they have said that this banning of players only affects a tiny fraction of the betting public. They said that the number was about 1 in 10,000 bets. When asked for proof of this data point, no reply was given. I decided to do my own small poll and found that it actually affects over 80% of people on twitter who follow me. That is a massive difference and the truth would lie in-between their 0.0001% and my 80% figures.
Let's try something. Re-tweet if you have ever been limited or banned from a bookmaker. Favourite if never limited pic.twitter.com/jgRdkcqKzm

— Daily25.com (@day25) August 14, 2015
The AWC, on behalf of the Australian bookmakers will point you in the direction of the off shore bookmakers and say they are the real issue, they are not regulated, they pay no tax, they are the enemy. By not allowing punters to bet with them, they are forcing us to bet off shore. This is a problem they have created. What they are trying to do is make it impossible for people like me to bet at all. They don't allow me to bet with them, but they also don't want me betting anywhere. An aussie not being allowed to bet, how Un-Australian is that.
Maybe I forgot to mention that the majority of these bookmakers are owned by overseas companies and all profits are sent back overseas.
Lets talk about off shore betting
Let's really talk about off shore betting. It seems it has become public enemy number one. Let's define what an off shore betting company is first, it's simply any betting company that is not licensed in Australia. Nothing scary about that, most are licensed in another country and have very similar rules and actually tighter controls than the Australian bookmakers do.
We can compare that to another online industry. Online shopping. I'm a value shopper, I love a bargain and I love what the Internet has done for online shopping. If I am looking to buy a new pair of shoes, I will go to the local shops and see the price of the shoes I like, I will then come home and do a search online to see if I can get them cheaper. Retail is a very competitive industry and price is the determining factor in most purchases. I will usually find the shoes I want online at an overseas store for much less and I have every right to buy them from an off shore site as they offer me a better price.
How is betting any different? It is a very competitive business (there are 30 competing brands in Australia) and they all vie for the punters betting dollar. But if another overseas bookmaker offers a better service (be that price or allowing you to bet), why should we not do the smart thing and shop there?
If I head to Woolworths and they say I am not allowed to shop there, I will head to Coles. If they also tell me I am not allowed to shop there, my only alternative is to shop overseas. This is what the bookmakers are forcing upon punters.
One of the main points the AWC will raise is that punters have no rights if the off shore bookie goes belly up or just decides to not give their money back. I've been betting online for 5 years now and have placed bets at hundreds of different bookmakers. There have only been 2 occasions where a bookmaker has shutdown and stolen my money. One was an Australian bookmaker named Sports Alive which was fully regulated by the ACT government, the other was another Australian owned company named Canbet which was regulated in the United Kingdom. If I have an issue with an off shore bookmaker it is not difficult for me to make a complaint with their governing body.
I turn over a large sum every year when betting. My return is usually 1-2% on my turnover. So if I bet $1 million over a year I am overjoyed to make $10,000. Right now all my betting has to be done off shore as the Australian bookmakers do not allow me to bet. That means the Australian bookmakers do not have to pay any turnover tax on my betting. My dream is that I am allowed to bet in my own country and that bookmakers pay their fare share of turnover tax. There are thousands just like me being forced to bet this way when we really don't want to.
How to protect problem gamblers
Here's the thing, if your major goal is to protect problem gamblers, stopping off shore betting will have very little impact. Problem gamblers are losing gamblers, losing gamblers are allowed to bet with Australian bookmakers all they want. They are treated like kings and given never ending freebies from the bookmakers to make sure they continue to bet with them. Problem gamblers have no idea there are off shore bookmakers. The only way to help problem gamblers is to take a real hard look at the business practices of the Australian bookmakers.
What we want
Then there are us. The punter who shows a bit of skill and might make a bit of profit from the hobby we love. We want you and Barry to have all the facts and know what is really going on before you make any decisions. Instead of limitations we need two simple rule which will solve a vast majority of the problems you will find in your research. We have a laundry list of regulations that we want enforced, but really, we will settle for two.
A minimum bet rule for all sports bets of $2,000.
The same odds and limits for every single customer.
A minimum bet rule
If you want to stop punters going off shore, a minimum bet rule will stop off shore betting in its tracks. This has been successfully trialed by NSW racing and has worked out amazingly well. More turnover and therefore more taxes paid, and more happy punters. The racing industry is built on gambling, it relies on it to survive. Eventually a minimum bet rule will be imposed by each state. But all the other sports (AFL, NRL, Soccer, so on) are not reliant on betting. They are happy for bookmakers to become sponsors of their teams and would never force bookmakers to impose a similar rule. That is why we need the government to do it.
A minimum bet rule simply states that each bookmaker has to take bets from every single customer to lose at least $2,000. So if the odds on an event are $2, a punter is allowed to bet a maximum of $2,000 on that, if the odds are $11, they can bet a maximum of $200. This should be the base for major bet types such as Head to head bets, line and total bets. This is a very simplistic example and other bet types would have lower limits, but it is a good starting point.
A minimum bet rule will result in much larger turnover and therefore larger taxes paid by the Australian bookmakers.
Same odds and limits for all
Every single Australian should have the right to bet. Any odds offered by a bookmaker must be the same for everyone and the limits must also be the same. This will solve a number of issues. The first is that betting off shore will drop dramatically. The second is that it will also benefit problem gamblers, giving them a cap to how much they can lose. All we want is equality. The same rules for every single customer.
These are the two main regulations that if passed would fix many of the problems that are facing Aussie punters today.
A little on In-play betting
I'm sure you will also look at the current In-play betting laws. Currently it is only legal to take a bet during a game if the punter places the bet over a phone line. The current work around by the Australian bookmakers clearly break the law and they should have massive fines imposed on them for doing this. In-play betting is a huge risk for problem gamblers and where bookmakers make the most profit. I have no problem with In-play betting becoming legal online but even stricter laws need to be placed on it.
Further talks
Thank you Scott and Barry for taking the time to read this and I would be more than happy to continue the discussion with both of you. Hopefully the punters voice can be heard. As an added bonus, if you can help affect this change, you will receive high 5's from punters around Australia for the rest of your lives.
Cheers,
Steve
How YOU (the reader) can help
We all need to make some noise. If nothing is done to fix this, it will be years before this legislation is looked at again. There is a very real chance that you will be unable to place a bet at all.
There are a number of things you can do.
Please share this letter with as many people as possible. On the right hand side and at the bottom you will see links to twitter, facebook and other social media. Click and share on as many of those places as possible.
Let Scott Morrison know that this is not a small problem. Head to his contact page and alert him to this post and tell him your story.
Follow both Scott Morrison and Barry O'Farrell on twitter and tweet them this letter and share your experiences.
We have a very short period of time to make a change and it will take everyone to stand up and be counted. Start acting now.