How I made $30,000 and enough Frequent flyer points to fly around the world 10 times over (in just 4 months).
If you are a regular reader of this blog you will know that I like to take advantage of any little loopholes that may spring up from time to time. In the past year I have written about how I won an all expenses paid trip to the Superbowl and how I won $22,000 by gaming a Betfair competition. If you look closely enough, there are a heap of little loopholes and ways to make risk free profits with all the bookmakers. I usually keep these to myself as once they become public knowledge, they don't last long. This little tip allowed me to make a risk free profit of $30,000 and enough frequent flyer points to travel the world for the rest of my life (all in just a few months).
I am sharing this now as I am no longer bothering with it and there is very little juice left. You can still make a nice return from this if you put in the time and effort.
Sportsbet Power Prices
For the past year, Sportsbet have had Power prices between 10-11 am on Saturdays Sydney and Melbourne races. They offer a book of between 100-105% on each race. A 100% book means that if you bet on every single horse to win a set price you would break even. They do this for a number of reasons, this offer helps them better shape their markets, is a good marketing ploy and they have plenty of time and liquidity to even out their books.
Personally they won't let me bet with them, but they have to accept fixed odds bets on NSW races to lose at least $2,000. We have the main piece of the puzzle set here, but so what if we can bet into an almost 100% market, it only means at best we can break even.
But when you combine these prices with 2 other things, the value increases exponentially.
Credit Card rewards
I have talked before about credit card rewards points and how I use them to travel the world for free. Sadly this loophole is set to be closed very soon. ANZ are one of the last to not treat deposits into sportsbooks as a cash advance. In meetings I was in last week, I was told that they would also be changing very very soon.
In a nutshell, if you have the best ANZ rewards card, you receive 2 points for every dollar you spend on your credit card. So if you deposit $1,000 you receive 2,000 rewards points. A one way business class flight to London from Sydney would use about 160,000 rewards points. So after depositing $80,000 you would be able to travel to Europe in business class.
A bit of maths. If you are limited like me to just betting on NSW races with a max win of $2,000 per horse you can expect to bet between $2-4,000 per race. So over 8 races you could bet $16,000 to $32,000 in a weekend. That's 32,000 to 64,000 rewards points. If you are not limited with any max bets and can also bet at Melbourne you would be able to turn over hundreds of thousands in a weekend.
So if you had a 100% market and deposited with your credit card and were limited to NSW races you could receive up to 64,000 rewards points per weekend for free. That's a great start, but it doesn't end there.
Using other Bookmakers
The third step to achieve huge profits from this offer is to take advantage of two other bookmakers products. Bet365 and Betting.club have fixed+ offers. With Bet365 if you place a fixed win bet on a horse and the Starting Price (SP) is higher, you get paid out at the SP price. Betting.club has a similar offer but it is even better, they will pay you the best of the fixed price you took or the top tote price.
In each race there will be one or two horses that are the same odds or better at B365 or Betting.club. By placing my bets on these horses with them, I had the added advantage of a bigger return if their price blew out.
By using every single bookmaker, you could also achieve a market under 100% and be guaranteed a profit no matter what happened.
Let's see an example
The best way to understand how I did this was via a real world example. You can click the image below to enlarge it.
This was Randwick Race 4 on the 7th of March. The market from all bookmakers was 98.9%. That means my yield from this event was 1.11%. So if I could bet a total of $4,000 on this race I could guarantee myself $44 profit and 8,000 reward points.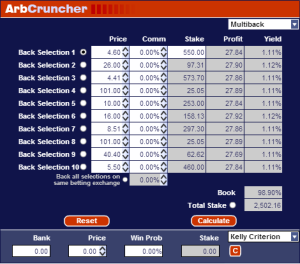 To give an estimate of how much I would have bet you can see the image below.
As I am limited to win $2,000 per horse, I was able to bet a total of $2,500 on this race and make a profit of $27.85. If you head back to the first image you will notice Bet365 had the same odds on two horses. It matched the odds on horse 8 and 13.
From this one race I now had a guaranteed $27.85 profit, 5,000 rewards points and 2 chances to make even more profit. Repeat over the entire card and you can see how this can add up very quickly.
The race ended with the $67 long shot Phrases winning. Number 8 had an SP of $6.50 so there was no advantage there, but number 13 has an SP of $6 which meant if she had won I would have been paid out an additional $500 profit.
I had a number of winners that went right out and made me an additional $2,000 profit on some races.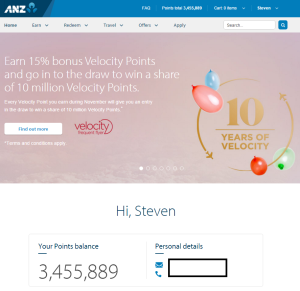 I followed this strategy for about 4 months. In that time I made a little over $30,000 profit and combined with my other betting I had over 3.455 million rewards points. That's enough points for 8-10 return flights to Europe in Business class, or 20 in Economy.
I'll be taking the family to Italy once again next year thanks to bookies, brains and bonus points. It only cost me about 30 minutes of my time each Saturday for 4 months. Not a bad return.
It doesn't end there
The way I decided to take advantage of these power prices was just one of a few ideas I came up with. For me this made the most sense as I wanted to make as many rewards points as possible. But you could use these prices in a number of other ways.
You are being given what the traders believe are the real odds of each horse winning, these traders know what they are doing and they are giving you very valuable information if you like to frame your own markets. You can use this information in a heap of ways.
They are also showing you what they think will win by giving poorer odds. I tracked it for a month and more profit would have been made by just betting the horses that were better prices at other bookmakers.
Combine the 100% market with other bonuses (cashback if your horse comes 2nd or 3rd)
Those are just three additional ways you could have used the data. I'm using it in a new way now and that's why I am happy to share the above.
It pays to take a few minutes every time a new offer comes out and think how you can use it to your advantage. At my Dailyprofit service, we do most of that for you. But there are so many little advantages you can find right now that can make you a very healthy profit. I hope this helps you make a little extra over the next few months.