Moley Moley Moley – Twitter Tipsters Tracked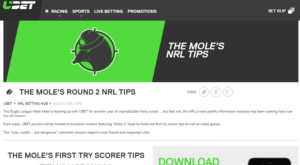 Whenever I'm out and meet a mate of a mate, betting usually comes up. It's on the weekend, the sport is on in the background and beers are being drunk. Once they find out I've made a profit from betting, without fail I'll get a comment along these lines. "You must follow moley or the wolf as well, I've made a heap from their tips". I can only laugh and thank them for keeping the bookies profitable so they can still pay me.
This usually takes my new friend by surprise and they are quick to defend the tipster who has made them a "huge" profit. When challenged to let me look over their bets, most will just say no and we move on and talk about other rubbish. On the rare occasion the guy won't let it go and is adamant he is right, he allows me to go over his bet history (I know, I'm a nerd and love spreadsheets). Even once I show him every bet he has placed following the Mole or the Wolf and calculate his loss, it takes a fair while for him to believe it.
It really isn't his fault, this tactic that makes him believe he has made a big profit is used by tens of thousands of twitter tipsters. It's a pretty simple scam. Chuck up a heap of bets every day/week and when the inevitable win does happen, shout all about it as loud as you can. I'm sure your twitter timeline is filled with BOOM, BANG, GET IN and so on. If the bet loses, it is never mentioned again.
The ones that shout the loudest need to shout for a reason. It's because their results can't speak for themselves.
Who is the Mole?
Tony aka the Mole (@RLW_Mole) was a writer for Rugby League Week. The publication is shutting down as like most old school newspapers/magazines, they did not understand the impact of the internet and were too late in creating a viable web-based version. Tony seems like a genuinely nice guy and has posted many scoops over the years. I can't say I've ever read an article as league just doesn't interest me, but he does have a huge number of twitter followers.
Having a closer look at his follower numbers does show that 49,000 of them are fake accounts, but he does have 70,000 real followers. Popular accounts do get followed by a lot of fake accounts, but this does seem high. Others have been known to pay to artificially inflate their followers to make it look like they are popular and make it more likely that other real accounts will follow (we won't mention the hundreds of other tipsters who have done this).

We can compare that to my own (much smaller) following and see that 89% of my followers are real people.
Rugby League week like any publication needs advertisers and a perfect match is a bookmaker. Ubet started sponsoring RLW and as part of the deal it looked like they asked that the Mole post his first try scorer tips with their odds and a link to their site. You can see what a normal 1st Try scorer Mole tweet looks like below.
The Mole usually chooses a fav and a roughie for each and every game of the season. The Mole had been posting these for the last 2 NRL seasons. Like anyone backing high paying odds, there are long losing streaks, and some weeks where a few are hit for big payouts. But over the long term, betting into a 150% market means they will lose you money.
1st Try Scorer betting
I've talked before about how bad 1st try scorer betting is.
Bookies love customers who bet into these markets as they make a huge margin from them. To put it as simple as possible, if you have two evenly matched teams, the bookies will put up odds of $1.91 for each team. This is close to a 105% market. So for every $100 that is bet with them, they will make about $5. With first try scorer bets, the market is 150%, meaning they will make $50 for every $100 that is bet. It is the same as taking those two evenly matched teams and changing the odds from $1.91 each to $1.34 each. But because there are 30 different options, this information is hidden.
This is why you see every bookmaker offer some sort of promo bet on 1st try scorer markets. Their advantage is so massive that they can offer almost anything and still make a healthy profit. That's not to say money can't be made from these promos, and we do it every week at Dailyprofit. By combining these offers with other promos, we can make a decent profit. But it takes some knowledge.
Bookmaker Tipsters
The Mole isn't the only bookie based tipster, almost every bookmaker has their own version. Another well-known one is the Willhill Wolf (@willhillwolf). Surprisingly, none of these tipsters track their results and (not surprisingly) all of them make a loss.
When on a good short term run, these accounts will post about how they have hit 4 of their last 5 bets, but when you look, you will see that they did hit the last 4 of 5, but also only hit the last 4 of 12 as well.
It makes sense for bookmakers to do this, they know mug punters will follow along. They need content on their site to help with SEO and driving traffic. They know mug punters will blindly back them and never record their bets or track results.
One of the sections of my new site (still working on it, it will be up this year, I promise) was a twitter tipster tracker. It would track all the bets of the big twitter tipsters and show actual results. The aim is to show solid evidence that all these guys are long term losing tipsters and you would have to be crazy to follow them.
Pro Tip: The only reason to follow a bookie tipster is to keep your account open. On one account, I've started blindly following the wolfs tips while also betting my real bets. I know I'll make a loss on the wolf bets, but more then make up for them with my own bets. This is the only willhill account which is still not limited. coincidence?? I think not.
Enter the Mole Bet Account
At the start of this NRL season, a new twitter account was created. It was called Mole Bets (@mole_bets) and it was a guy who also knew that these bets were losers and wanted others to know about it. He started tracking the results of these 1st try scorer bets. This account asked both the Mole and Ubet for a spreadsheet of past results, and both places declined to give it. The account has now been deleted and all trace of it gone. But for the first two rounds of the NRL competition, it had tracked every bet, and the results were.
0/36
yep, the mole has made 2 selections in every single NRL game (18) and not hit one winner. Just by picking the favourite in every game, he should have hit at least 1 in 10, but that's variance at play. He might go on a good run this week and hit a few winners, but over the course of the season, he will lose anyone who follows him a lot of money. These results do not take into account any refunds followers may have received from Ubet.
For a bit of fun, let's say 10% of the Moles real followers followed him at $20 per bet. That would mean 7,000 people have each bet and lost $720 so far this year. In total Ubet would have made $5,040,000.00. Yep, over $5 million (not including refunds). Even if only 1% followed along, that's still over half a million dollars.
In Defence of Moley
Apart from shouting from the rooftops when he does hit a winner, none of this is the Moles fault. He is actually a victim in all of this. It is clear he does not bet or know much about it and doesn't really understand what he is actually doing. To him, these tips are just a bit of fun and are offered for free. He is a sports journalist, not a bookie tipster. But as he is so popular on twitter, he is unwittingly costing his followers a lot of money (and they are none the wiser).
Moley might actually be a good 1st try scorer tipster (not profitable, but better than the average mug). But he is hamstrung by a few constraints.
He has to bet into every single game
He has to select two bets for each game
The odds can only be taken from 1 bookmaker
There are no suggested bet amounts
Successful punters pick and choose their bets. The beauty for us is that the bookmakers have to put up odds for every single match, but as a punter, we can choose which bets we place. By requiring the Mole to bet into every game, it takes away any advantage he might have.
Mug punters don't understand how important it is to get the best possible odds. The Mole can only take the odds on offer at one bookmaker. There are at least 10 bookies that have these markets and it would be very rare that Ubet offer the best odds. So while Ubet might have $10 for a certain player to score first, by comparing odds, you will be able to find that exact same bet but with odds of $12 or more. By only betting at one bookmaker, mug punters are costing themselves at least 20% of their potential winnings.
The Mole also clearly has no concept of a betting bank and staking. He does not state if followers should be backing each selection at 1 unit or if they should be betting to win a set unit size. With these long shots, he should have advised members to bet an amount to return a set amount.
As of this week, it seems the relationship between Ubet and the Mole is over. The 1st try scorer bets are still being posted, but with no odds and no links to Ubet.
Even after breaking all this down, the Mole has some very passionate supporters who won't hear a bad word about him. Just be glad these people are around, as they keep the bookies profitable and help the rest of us take advantage of the bookies.
As always, it is up to each individual to take responsibility for their own bets. They should be tracking their bets and know their profit/loss figure at all times. Free content such as twitter tips, should be taken for what they are, pure entertainment. I believe each tipster should have a disclaimer or link to their tracked results, but that is never going to happen.
It will always need to be a punter beware situation. So the next time you are tempted to follow a tipster on twitter who has just posted about a big win, think twice.