Sportsbet punts workers as quickly as winning customers.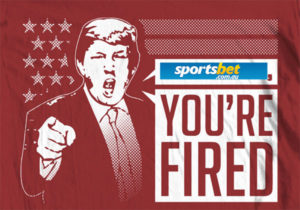 We all know that in their greed to make ever increasing profits, Sportsbet are the quickest to kick out (or fire) any winning customers. They have huge teams and automated systems that track everything and the moment they realise they can't take money off you, you are shown the door. It now looks like those very same people who were tasked with kicking out winning punters have also been kicked out of Sportsbet. Sportsbet recently sacked 40 workers they felt were no longer "economical". I guess this was a "traders" decision.
Sportsbet's management team are running scared of their old boss (Matt Tripp) who is now running Crownbet and with larger profit expectations from their owners (Paddypower) they have simply taken what has worked on punters (kicking out ones that hurt their bottom line) and replicated that by kicking out employees who are not making them enough money.
Now I know that many of you might find it hard to feel sympathy for a bookie employee, but today we have an article from a current Sportsbet employee who is not happy with the way Sportsbet has treated his now ex-workmates.
---
Being a long time follower of the Daily25 website I thought this would be a great medium and opportunity to post my thoughts on some recent disgusting corporate behaviour, based solely on greed in the aim of record company profits. What you may see on TV or social media doesn't always align with what happens behind closed office doors.
I used to be proud of my workplace. Overall they've been good to me; however, I have seen and lived through a lot of change over the years, especially lately and not for the good. This is the final straw; the tipping point has been reached. Sportsbet used to have a thriving, all-inclusive culture. It used to be enjoyable to go to work; you never worried about job security (and why would you when profits were up significantly year on year), you felt like you were a part of the success, your input was valued and most importantly, work didn't feel like work. You were treated like a respected human being.
For the purposes of this article, I have put the biggest losers, you being the punters aside. We all know bookies aren't in this for you. I'm sure you have heard it all before.
To first provide background;  Sportsbet posted a record-breaking $118m AUD profit in the 2015 calendar year. This was followed by reports last week the PPB Group are headed for a re-forecasted increase in full-year earnings guidance to a range between £390m and £405m (that's pounds!) which included a Sportsbet year on year increase in revenues of +49% for Q3. And with Q4 also projected to be a bumper result with a stunning Spring Racing Carnival as well as AFL and NRL Grand Finals, there's absolutely no reason they won't smash the $118m profit this year. Sometimes though, more is never enough.
In order to achieve these fantastic results, the top level executive management team, spearheaded by the CEO Cormac Barry has been deplorable. There's no escaping or hiding this fact. Unrealistic profit targets imposed by owners PaddyPower Betfair were a mountain too far to climb and hence synergies have been implemented. So what have Sportsbet done this past week and right through the past three months to cut costs in an attempt to achieve company targets? They've made redundant at least 40 people, and this is just the beginning. This has been the CEOs grand plan to cut the cost base and meet his individual personal targets. Company performance has been brilliant to say the least and the fact I have seen hard working individuals who have made the company what it is today lose their jobs makes me sick in the stomach. Staff were told that no jobs would be lost as a result of the PaddyPower Betfair merger, however deep down we knew what those synergies would be at some point. The answer being people's livelihoods.
To add salt to the wounds, posting a jibe on the @workatsportsbet Twitter handle on the same day traders were made redundant that US citizens looking for a place to stay for 4 years on the back of the US election to apply for roles showed bad character, bad judgement and distaste to those who lost their jobs to the corporate fat cats.
The culture is now toxic. When you get into work and sit next to your fellow colleague and you don't know if you will have a job at the end of the day you know something is erringly wrong. I am all for redundancies and cutting the cost base in a sinking ship when it's done properly, it's the sensible thing to do, no question. But when you as a Group are posting profits in the hundreds of millions of dollars, it's wrong. Having witnessed people I am proud to call not just colleagues, but dear friends, be made redundant, I don't care about not being paid the end of year bonus which we have been told we most likely won't be receiving as we have not hit astronomical targets. I'm sure though the Executive team will be receiving bonuses.
The CEO keeps talking and preaching about a confronting notion that we are "in a street fight", he's infatuated and hell-bent on beating the competition at all costs, notably Crownbet, at the expense of his own people. I have attached an internal brochure that was distributed which shows the slogan that's thrown around daily. Everyone has been told that this is the goal and we must all work religiously towards. My message to the CEO is start from within, mend the culture because once you have lost it, it's gone forever. You're already a winner. Unfortunately sometimes greed is never enough. Ironically, 'Low Ego' and 'Integrity' are two of the company values of which management are repeat offenders, but we will give them 'Relentless will to win' in their vindictive actions.
There's so much I could have added which is just office nonsense that paints a wider picture, but I wanted to focus on those who have recently lost their jobs. Considering we are fed by you, the generous losing punter, as you can see with the recent released financial projections above, it was only fair to keep you informed. Like the others, my day may come tomorrow.
---
It comes as no surprise to me that the management team have used this course of action. Anyone that treats their customers as Sportsbet do will also happily get rid of employees if need be.
What are your thoughts on this? Leave a comment below.