AFL is back thursday
Tomorrow the AFL season starts again. Last year was the worst ever year for me following the AFL model. I lost $143,800.00 following the H2H and Line markets. Dailyprofit members lost 47.3845 units ($4,738.45 @ $100 per unit). The model had a horror season. Jonno has a good article on his site that shows the bigger picture and as I have said in previous years, a year like last year could always happen.
I will be lowering my bank from $150,000 to $100,000 this season. I know the model is going to be around for a long time, and I'm happy to give up some potential profit just in case last year wasn't a one-off.
Dailyprofit will once again be sending out the AFL plays one hour after the Sportpunter service sends them to their full paying clients.
Here comes the sales pitch…
Dailyprofit has now been around for almost 3 years. In that time we have advised 3,888 bets for the Sportpunter service (covering AFL, NRL, Rugby, NFL, NBA, NHL, and MLB). We have produced 48.74 units of profit at 1.03% ROI. That might not seem great compared to everyone else spouting about 10%+ returns. But unlike others, we record at odds that anyone can achieve (and beat) and we send our bets the night before or the day of the game (meaning you can get bets on). Others like to send bets early in the week where you can get $5 on and have your account restricted. We make sure you can get on for whatever you like, and your accounts remain open.
We have over 60 testimonials on the website and have hundreds of very happy members. We also have a strong community of punters that help each other out in the forum. By signing up, you gain access to all articles, guides and past forum posts. You get the collective wisdom of other punters over the past 3 years.
You also get instant access to all other sports we are currently offering tips on. That means the NRL and NBA right now.
The NRL is just 3 rounds in and the results have been crazy. This is a very small sample size and the ROI will come in over the season, but so far we have advised 42.35 units worth of bets and made 17.4655 units profit at 41.24% ROI. There are no other tipsters out there that get close to this return. The NRL has been our best performer since Day 1 and we have advised a total of 370 bets and made a profit of 87.7230 units at 13.58% over the 3 years. As mentioned earlier, we record the average odds of Pinnacle and the best Aussie bookie for the NRL service, which means all members easily beat the returns.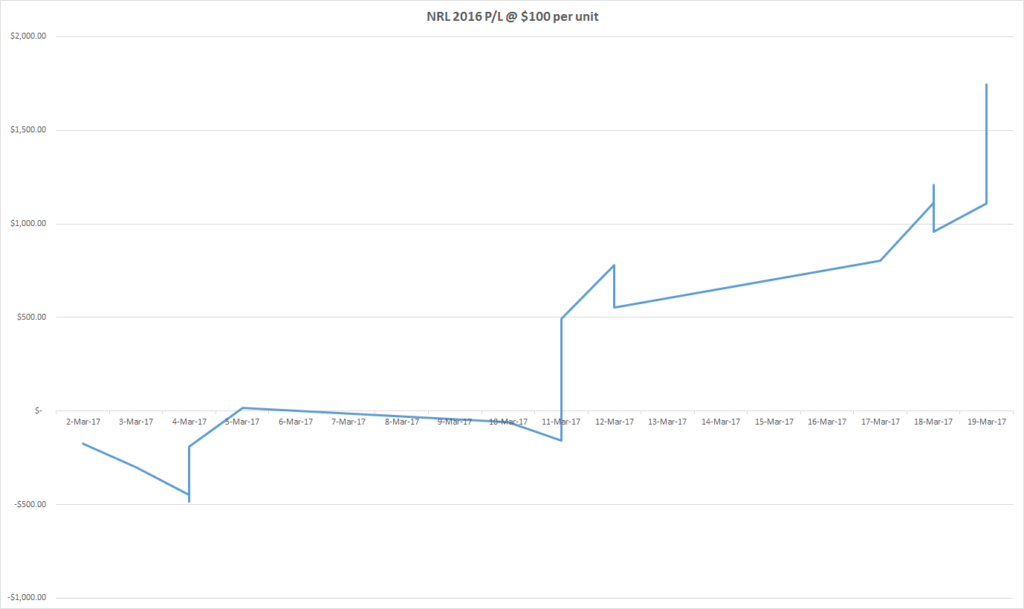 The NBA has also had an amazing season so far. We have advised 699.60 units worth of bets and returned 57.5768 units at 8.23% ROI. We take the best odds from just 3 bookmakers (Pin, 5Dimes & Betcris). 90% of the bets are advised at Pinnacle. All time, we have advised 1,215 bets on the NBA and made a profit of 62.0383 units at 5.81% ROI.
When you sign up to the Sportpunter package for $98 a month, you get access to all sports. For $1 extra, you can also receive access to the Value service, which uses the bookie promos to make risk free profits. These Sportpunter bets work in unison with the value service and help keep your accounts promo eligible.
Finally, I have recently released my newest service (Dailytrades) and it gives members another angle to attack the bookies from. All new Dailyprofit members receive 2 weeks free access, which usually costs $100.
End of sales pitch
If you have been a reader of this blog long enough, you know all my profits have been derived from the Sportpunter service. After testing hundreds of tipsters, there was only 1 I trusted. When I decided to create my own service, I knew the sports betting side had to offer only the best service. That has proven to be the case over the last 3 years and will be the case for the next 3 and the next 3 after that.
If you want to make a long-term profit from your betting, there is only one choice.