1st Quarter (Jan-Mar) 2021 Review +$30,760.00
Over the 10 and a half years I have been writing this blog, I have posted my weekly results for more than half a decade, before moving to Monthly results for the past few years. This next decade, I'll be moving to Quarterly reports. This is the first-ever Quarterly report and will cover Q1 (January to March). I'm sure in another few years I will move to yearly updates.
December was a terrible month where I lost almost $30k. It has taken the past 3 months to recoup that loss. For me and the vast majority of Dailyprofit members (who place the same bets as me), it was just another drawdown that we eventually regained. But December was also the time Jonno and I were a bit more public on social media and with a few live youtube videos. This saw a lot of new members join the service (around 40). As is always the case, no matter how often I try and tell new members they need to set up a certain size bank and that drawdowns are 100% guaranteed, people never learn. They are looking for fast profits. With the exception of a few, after the horror December/January period, all these newbies left the service. If they had stuck around, they would now be in profit, and better yet, would have been through their first significant drawdown and know how to deal with the next one. I have no sympathy for those with short attention spans and expectations of immediate profit. If that is you, feel free to lose your money in crypto altcoins (at least there you have a better chance).
You would have noticed that I have not created much content this year, and my custom yearly update was not done. There are a few reasons for that. Currently, my interests are elsewhere and I don't seem to have time to write. If you follow me on Twitter, I'm sure you know where I am spending my time (and wasting my money). The other reason (and the main one), was that we all went through a horrendous 2020, and 2021 while showing better signs is no walk in the park either. I was fortunate that a number of investments I made 7+ years ago started to bear fruit in 2020. If you have followed my story over the past decade, you know I started with a goal to make $2 million in 10 years so I could retire with a 4% withdrawal rate ($80k a year). I guess Bill Gates said it best:
Most people overestimate what they can do in one year and underestimate what they can do in ten years.
While I got the lump sum in 1 year, it was because of work I did 10 years prior. Without giving out figures (which I might eventually do), let me just say that I overshot by a multiple that I can't even fathom. This was at the end of 2020 when Bitcoin was also only $30k, since then it has doubled again. But even if I had never invested in Cryptocurrencies, I still would have overshot my target with my other investments.
So woop woop to me, it's hard to share my success publically, even though it was a 10-year overnight success :). Nobody really looks at the 10 years of prior work put in, at least I have this blog as proof of work (with sports betting at least).
Ok, onto how I went with Sports Betting over the past 3 months.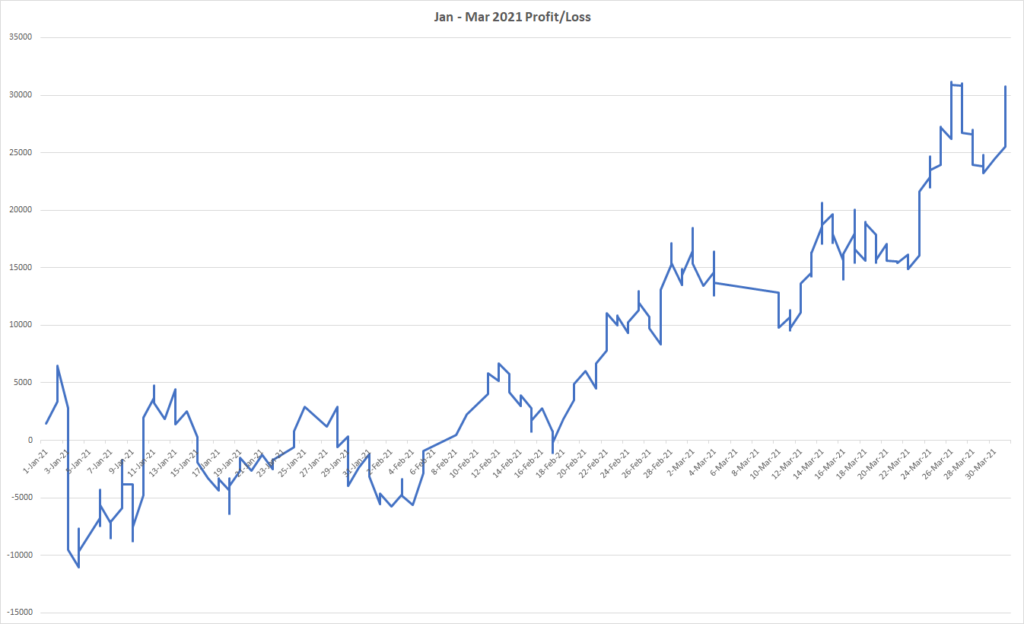 I placed 278 bets in Q1 and won 140 of them (50.4%). I turned over $360,030.00 and made a profit of $30,760.00 at 8.54% ROI. We can see that Jan and the first half of Feb were break-even (and mostly underwater). From the 18th of Feb, the NBA Totals took off. The funny thing was, all year we had been smashing the closing line on the NBA bets, but it wasn't until recently that they have started to pay off. We also saw the last few NFL games in Q1 and the start of the NRL and AFL. I've also been having some fun with small stakes on NBA multis each day.
NFL
There were 7 more NFL bets placed in 2021. Only 2 of them won.
I turned over $20,600.00 on Totals bets and lost $7,230.00 at -35.1% ROI.
It ended up being a very poor NFL season. Between Line and Totals bets, I placed 119 bets and won 53 of them. I turned over $289,090.00 and lost $29,340.00 at -10.15% ROI.
NBA
For the past 5 years, the NBA totals have been the greatest sports betting model in the world, nothing comes close. Every year it has started on fire, apart from this year. While it continued to smash the closing line the majority of the time, it was not producing winners. But we all know that the only real metric you need to track is how often you beat the closing line, and the results will take care of themselves. This was the case here as Q1 has seen the model revert to its old winning ways.
I placed 211 Totals bets and won 117 of them (55.5%) in Q1. I turned over $325,610.00 and made a profit of $34,240.00 at a 10.5% ROI.
That brings the 20/21 NBA season's current profit to $19,760.00 at 5.2% over 240 bets.
I'm also having some fun with $100 multis each day with the NBA. I've turned over $4,000 and made $790.00 this quarter at 19.8% ROI.
AFL and NRL
We are early in both sports season's and I am betting 1/10th the size I do on the NBA for these two sports. Both have gotten off to pretty great starts over the small number of bets.
AFL has seen 4 wins from 8 bets with turnover of $2,140.00 and a profit of $1,030.00 at 48.1% ROI
NRL has seen 7 wins from 12 bets with turnover of $7,680.00 and a profit of $1,930.00 at a 25.1% ROI.
Still early days, and still impossible to get any sort of decent bet on big markets with Australian bookmakers. This is unlikely to ever change.
Next Quarter.
The NBA season will be into their playoffs at the end of Q2, and I feel the good results will continue until the end of the season.
We will be halfway through the NRL and AFL season at this stage as well, and that's usually been a good time to stop following the models.
As always, I continue to simply spend as little time possible betting for the largest rewards. The answer has and will always be to follow the Sportpunter models.
Total Profit for Q1 2021 was $30,760.00
If you want to lose lots of money short term (but make a profit long-term) betting on sport like me and 110 others, feel free to join the Dailyprofit service 🙂
Sign up for my mailing list to keep following my journey.
Stats Year 8/9/10/11
Total bet amount: $5,300,380.00
Profit/Loss: $157,070.00
POT: 2.96%
Bets Placed: 3784
Won: 1915
Lost: 1822
Half Payout: 6
Refunded: 41
Winning %: 51.2%
Total profit per day: $485,650.00 / 3,926 = $123.70
Total Turnover: $35,548,600.00
Total ROI: 1.36%
| Sport/Tipster | Wagered | Profit/Loss | ROI | Jan - Mar P/L |
| --- | --- | --- | --- | --- |
| AFL H2H | $461,500.00 | -$3,110.00 | -0.70% | $1,030.00 |
| AFL Line | $452,680.00 | -$22,670.00 | -5.0% | $0.00 |
| NRL H2H | $752,820.00 | -$8,580.00 | -1.1% | $1,930.00 |
| NRL Totals | $79,240.00 | $1,780.00 | 2.2% | $0.00 |
| NBA Totals | $2,194,140.00 | $166,130.00 | 7.6% | $34,240.00 |
| NBA H2H | $208,240.00 | -$13,830.00 | -6.6% | $0.00 |
| MLB Totals | $9,250.00 | -$1,870.00 | -20.2% | $0.00 |
| NFL Totals | $705,180.00 | $44,110.00 | 6.3% | -$7,230.00 |
| NFL Line | $416,250.00 | -$5,470.00 | -1.3% | $0.00 |
| Mistakes | $16,280.00 | $590.00 | 3.6% | $0.00 |
| Multis | $4,800.00 | -$10.00 | -0.2% | $790.00 |
| Total | $5,300,380.00 | $157,070.00 | 2.96% | $30,760.00 |