How losing gamblers can still come out ahead by using credit card rewards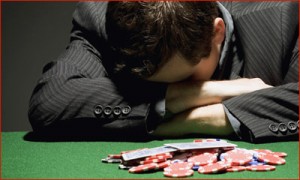 If you're reading this then in all likelihood you are a losing gambling. There's nothing wrong with that, 98% of you are. Unlike the vast majority, you are at least looking for information online and reading this site. Now most of the time I talk utter rubbish, but every now and again I will give you a bit of information that can help turn what is now a losing proposition for you into a winning one. In the past I've banged on about keeping track of all your bets, finding the best odds at all times and a heap of other little things that will help. Today if you're smart (and you read this site, so you must be), you will add one more little piece of the puzzle to your betting arsenal.
I live off a very fine margin. If I can make a 2% return over a season then I should do ok. That means for every $100 I bet, I hope to get my initial $100 back and then an extra $2. That's all I hope for, if I get $5 back instead then I have had an amazing year. Now work that out for yourself. If you bet on average $500 a week, then you should be happy with $10 profit and ecstatic if you make $25. This is most losing punters major problem. They expect that if they bet $500 a week, they should make that same amount of money. Losing punters perceptions is an article for another day, but understand that we are both working to very low margins. When margins are so small, any extra things you can do to improve them offer great value.
Today we are going to talk about frequent flyer points, credit cards reward programs and online wallet rewards programs. This is going to be a fairly detailed post. I will break down each category and then show you my plan of attack for the year ahead. My numbers may be a bit bigger then yours, but the percentages will be the same for everyone. 1% extra profit to me is the same to you.
Rewards and Cashback programs
Credit card companies and casinos/sportsbooks have long offered bonuses and rewards to customers if they use their product. It's a simple tactic, give customers a tiny percentage back as a gift and they will love you forever. Lets look at a few examples.
The Qantas frequent flyer program gives FF points when you fly or use affiliated credit cards. You can then redeem these points for flights or merchandise. This is the only profitable arm of the entire Qantas company.
Credit card companies give you reward points or frequent flyer points for every $1 you spend on your credit card. These can be redeemed for cash or merchandise.
You also see the same thing in Vegas, I have never had to pay for a room or food when I head to Vegas as I am "comped". All I need to do is play Blackjack at $25 a hand for a few hours a day (something I would do anyway), and the casino thanks me with free room and board. I know how to play perfect strategy and over 4 hours I might play close to 240 hands of Blackjack which means I have bet $6,000. I know on average I will lose about $100 per day over the long term betting this much. If I was to pay for my room and the food and entertainment each day, I would be looking at $500 to $1,000.
RSL clubs and Casinos in Australia also have their own rewards programs, where you get points for playing the pokie machines and these can be redeemed for food and drinks.
Online e-wallets also offer reward points for every transfer you make into a casino or sportsbook.
TAB runs its own rewards program and these points can be exchange for cash or merchandise
Supermarkets such as Woolworths and Coles offer rewards points based on how much you spend
So why do they do this?
Credit card companies, sportsbooks, casinos, airlines and Supermarkets all make a motza from each customer. We can easily see how sportsbooks and casinos make money from us, they have a massive inbuilt edge that most people can't beat. The supermarkets offer points for a few reasons, they want to build loyalty, but more so they want as much information about your shopping habits as possible, so they can sell even more products to you. Credit card companies charge merchants a few percent for every transaction. All these businesses make so much money and there is fierce competition for each and every customer.
How I did things for the past 4 years
If you're a regular reader of this blog then you know I love to travel. Last year I lived in Europe and traveled through America before taking a 30 day cruise home (tough life I know, but someone has to live it). This last trip, my girlfriend and I only traveled business or first class everywhere we went. Normally the cost of the flights we took would have added up to $50,000. In total I paid $3,000 in taxes and fees for the flights. I used my Qantas frequent flyer points to cover the rest. Over the years I have shouted my mates a trip to Vegas using these points and upgraded a few friends who had bought economy tickets. There are ways to get the most out of these points, but I don't want to go too deep into travel hacking as it is no longer relevant.
Years ago all banks allowed any deposit into a sportsbook (gambling transactions) to be treated like any other purchase. Over the years many banks moved to charging a cash advance fee on these deposits. I actually think this is a good thing as I believe that no one should ever bet with credit. This made the frequent flyer points worthless as the fee was much more then the points were worth. The only bank that didn't charge a cash advance and still gave frequent flyer points was ANZ. Sadly on July 1st this year they have stopped giving FF points. I was devastated by this news. My dreams of flying first class for the rest of my life were dashed. I would never pay the stupid prices for an actual business or 1st class ticket. I now have 600,000 points left. This should get me and my girlfriend at least one more round the world trip in business class.
Talk about 1st world problems, here I am complaining about not being able to travel the world for free. Now I feel bad… be back in a sec
OK. Donated to a charity, great thing is I also got some credit card rewards points. haha
Now that I feel slightly less shamefull about bitching and moaning, let's move on.
So we can't get frequent flyer points anymore, and I assumed that was it. But there's always more then one way to skin a cat. Below I will talk about a few more alternatives to earn that little bit extra which can help you turn a loss into at least break even.
ANZ Rewards Points
As i lamented the loss of my future points on twitter, I had a few people reply saying the rewards points were still working. Now these are bank specific rewards programs. You can use the points for merchandise, you can still convert them to air miles with a few airlines, but the best use of the points is to simply convert them to cash. I've signed up for the most expensive card (ANZ Black) as it offers 2 points for every dollar used on the card. If you have never had an ANZ card before, you can join up here and have the first year waived and also receive 50,000 points (which is about $300 in cash). I don't get anything from ANZ, all I get is the warm fuzzy feeling inside knowing that I just made you $300 and potentially even more. You can always cancel this card before the year is out and move to a cheaper one the year after.
So I have now paid $375 for the card. There are added bonuses like free travel insurance, free entry into airport lounges and a free concierge service. You can actually ring up your concierge and ask them to do anything for you (within reason). So now if I choose to use this card for every bet I place then let's see how much I could potentially make.
I will use last years figures and add in what I think I will turnover on horse racing this year as well. Last year I bet a total of $4.6million. If it was a simple case of depositing and withdrawing then I would have received 9.2 million points. It costs 20,620 point to receive $100 cashback. That would equal $44,616 or very close to 1% of my total turnover. That would be amazing if it was that easy, I would have moved from a 2% minimum return to 3%. Sadly most of my turnover was at Pinnacle, who have now added a rule that says any deposit must be turned over 5 times before you can withdraw. I turned over $2.3 million there last season so we need to divide that by 5 which means I could only deposit $460,000 there. That gives us a new figure of $2.76million deposited into sportsbooks which equates to $26,700 in cash backs. What this means is I can still lose $30,000 this year and I will still break even. I believe I will be able to turnover a further $1 million on the horses each year which is a further $9,700 a year.
But is there a better way? maybe. Let's find out.
Online Wallets (Neteller and Skrill)
The only other alternative to deposit into bookmakers and receive rewards is via an online wallet. The two big ones are Neteller and Skrill. I have had a look at the skrill rewards offers and they look terrible, so I will just concentrate on the Neteller rewards.
As I should be able to transfer over $2,000,000 per year I would be a Diamond member. That means I will receive 1.5 points for every dollar I send or receive from a bookmaker. Sadly not all Australian bookmakers take Neteller, but lets use the same amount we used earlier ($2.76 million). We will also assume I came out even and deposited and withdraw that same amount. That means over a year I would receive 8.28 million Neteller points. It costs 6.326 million points to receive $5,000 cash back. So those points are worth about $6,550. You will receive even less on the lower levels. This is an easy decision to make but there are a few things to take into consideration. If Pinnacle charge a credit card fee then Neteller would be the best choice, but if they don't (which I believe so), then it is much better to use the ANZ rewards card.
Some things to consider
There are many issues that could crop up that you might not think about. These are just some.
offers can change at any time
pinnacle has rules to how much u can deposit
other sportsbooks might charge a CC fee (betfair already does)
If you forget to pay off your CC bill in time you will be whacked with a fee
Rewards programs can change the value of points
You could double up with TAB, get ANZ points for deposit and also TAB points for the bets.. SCORE
What will I do?
I'll use a combination of ANZ rewards and Neteller. I believe I can get about $10,000 – $20,000 in cash back each year which would be fantastic. So next time you are about to deposit into a sportsbook, think of the best deposit method to use to get the most from every single cent you bet.