Dailyprofit NFL season 2019/20
The Dailyprofit service will have the first NFL bets of the season ready to go on Thursday. Once again we will be offering the Sportspunter models which continue to make our members a profit year after year.
The service is $119 AUD per month and that gives you access to all AFL, NRL, NFL and NBA bets. For the month of September, we also have a yearly package up that gives you two months free if you sign up for the year ($1,190 AUD). From October 1st, prices will increase to $149 per month and there will be no yearly option. So get in now and lock in that $119 price for the NFL and NBA season.
Prior NFL results
Dailyprofit has advised 983 line and totals bets on the NFL and won 514 of them (52.3%). At 1 unit = $100, we have advised $146,435.00 worth of bets for a profit of $3,725.94 which is a 2.5% ROI. Line bets see 3.3% ROI while the totals are 1.9%.
Note that we record only Pinnacle odds at time of release. It is easy to replicate and beat the official prices.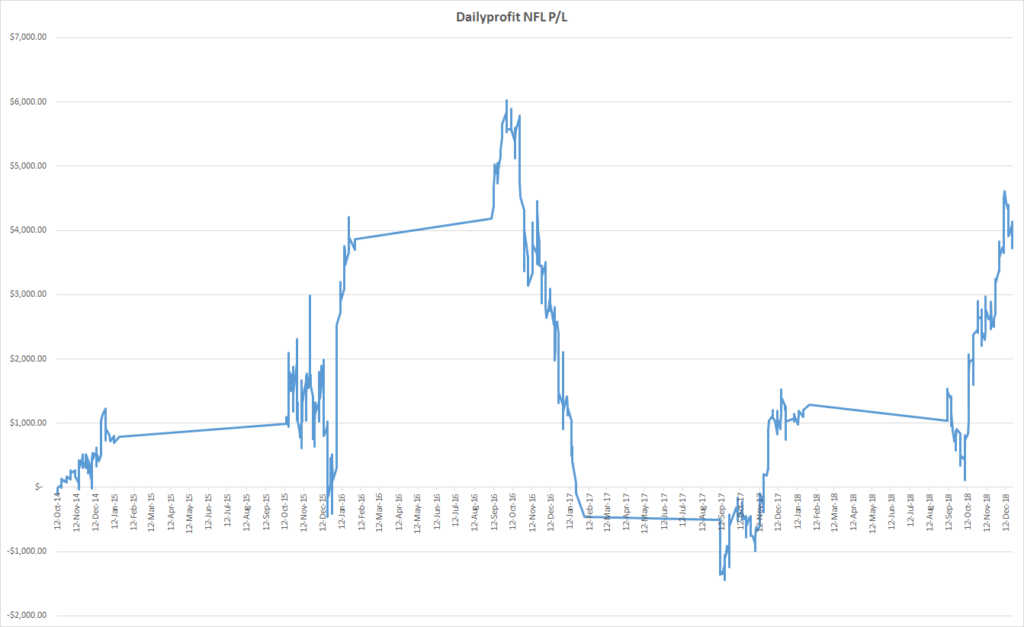 The graph above shows all advised bets, which cover 4 and a half seasons. The past two seasons we have put filters in place and the profits have been much more consistent.
Line Betting Analysis
These are the results of the Sportpunter service going back to 2010. We can see the most profit is made by betting the first 6 weeks of the season. By betting only the first 6 weeks over the past 9 seasons has seen 610 bets for a 6.0% ROI. There has been only 1 losing season in those 9 years.
The Official Line bets this year will be all bets with a 10%+ overlay in weeks 1 to 6.
Totals Betting Analysis
Totals betting seems to take a few weeks before it starts making a profit. But from week 5 onwards there is a heap of profit.
The Official Totals bets this year are all bets from week 5 to 18.
Join Today
The Sportpunter service has been running since 2002. That is now 17 years of profitable tipping. There is no other service in the world that can say that. When new services pop up each year, within a year or two they lose their members banks and disappear. That isn't the case with Sportpunter, his longevity in this industry is beyond compare and we will continue for many more years.
If you want to start making smarter punting decisions, then join the service today.