November 2020 Review -$9,960.00
A big loss in the NFL in November. At one stage I was sitting on a $26,000 loss but thanks to a huge last week of the month, the total loss was a much better $10,000.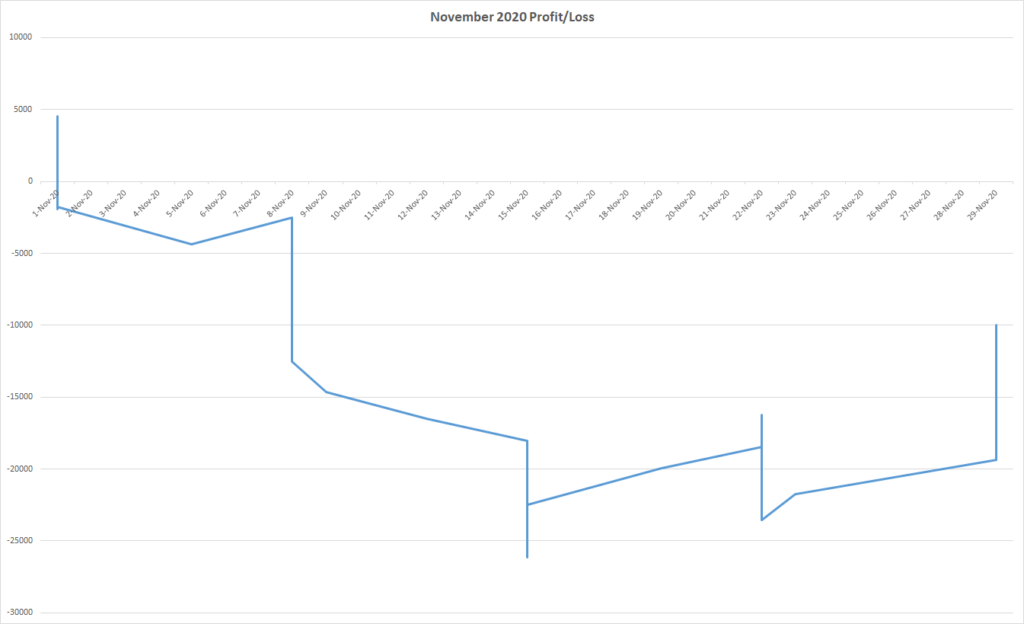 In November, I placed 41 bets, won 19, lost 21, 1 was refunded. I lost $9960.00 at -10.68% ROI.
NFL
Only the NFL to bet in November and it did not go well.
I turned over $32,2360.00 on Totals bets and lost $8,350.00 at -25.9% ROI.
I turned over $60,980.00 on Line bets and lost $1,610.00 at –2.6% ROI.
In total that brings the combined season to a loss of -$7,410.00 at -3.25% ROI.
Next month
The NBA starts again at the end of December. I can not wait for that. We still have the NFL going as well and I can only hope it turns the season around in December.
The Dailyprofit service will also be going up in price for the final time this year. We will be moving from $159 AUD per month to $199 AUD per month in early December. We will also have a cap of 140 members. That leaves around 18 spots open for the upcoming NBA season. The service now has more members paying a yearly subscription then a monthly one, which goes to show the immense value the service gives.
Total Loss for November was $9,960.00
Sign up to my mailing list to keep following my journey.
Stats Year 8/9/10/11
Total bet amount: $4,842,000.00
Profit/Loss: $156,290.00
POT: 3.23%
Bets Placed: 3443
Won: 1758
Lost: 1645
Half Payout: 6
Refunded: 34
Winning %: 51.7%
Total profit per day: $484,870.00 / 3,805 = $127,42
Total Turnover: $35,090,220.00
Total ROI: 1.38%
| Sport/Tipster | Wagered | Profit/Loss | ROI | November P/L |
| --- | --- | --- | --- | --- |
| AFL H2H | $459,360.00 | -$4,140.00 | -0.90% | $0.00 |
| AFL Line | $452,680.00 | -$22,670.00 | -5.0% | $0.00 |
| NRL H2H | $745,140.00 | -$10,510.00 | -1.4% | $0.00 |
| NRL Totals | $79,240.00 | $1,780.00 | 2.2% | $0.00 |
| NBA Totals | $1,811,220.00 | $146,370.00 | 8.1% | $0.00 |
| NBA H2H | $208,240.00 | -$13,830.00 | -6.6% | $0.00 |
| MLB Totals | $9,250.00 | -$1,870.00 | -20.2% | $0.00 |
| NFL Totals | $661,150.00 | $49,230.00 | 7.4% | -$8,350.00 |
| NFL Line | $399,440.00 | $11,340.00 | 2.8% | -$1,610.00 |
| Mistakes | $16,280.00 | $590.00 | 3.6% | $0.00 |
| Total | $4,842,000.00 | $156,290.00 | 3.23% | -$9,960.00 |