The Trial Files and Horse Racing Genius: Dodgy dealings?
NOTE: An update on this article has been posted here
Disclaimer: All views expressed below are mine and based on my own experiences. These are just my thoughts and I advise everyone to come to their own conclusions and research every tipster they come across.
One good thing about the internet is that it is now very hard to get away with being a dodgy tipster. If you claim something that isn't true, it is there for all to see (unless you delete it). Paying members are quick to point out fake results and dodgy record keeping. But when you post your concerns on their blog, forum, or facebook walls, they own control of that content and can easily delete it. There are not many places to complain and make sure others hear about it. I am working on such a thing as we speak. A place that will keep track of every tipster service and people's reviews of them (Good and bad). I have built up this site over 4 years and google understands that this is an authority site. Any articles I write about a certain tipster will leap onto the front page in days. It's about time that any fraudulent tipping services do not last long.
Today we have a service that has a real chance to come clean, change direction and run a fair service. If not it will be the first service put on the dreaded DODGY TIPSTERS list. These guys get their own page on my site and a nice trophy sent out to them. The page will also helpfully come up on Google if anyone searches for them.
We are talking about two services here. The Trail Files and Horse Racing Genius (part of the Genius Group).
Note: A big thank you to Matt who brought this to my attention and did a lot of the research for me.
The Trial Files
I came across this service back in July. When I said I was moving into following Horse racing tipsters, a reader alerted me to the service. They say they have been running for 18 months now. I joined their free email list and did a bit of research but could not find much data. I emailed the owner and asked basic questions such as what the odds were recorded at, when to place bets, so on. He replied quickly and nothing seemed amiss. He did say.
We did not want to be just another "tipping" service as we aimed at educating and explaining our process rather than providing numbers
My assumption was they were looking to become media partners with sites like Betfair, or horse racing specific media organisations. I could also see they would eventually move into a paid tipping service. Now there is nothing at all wrong with this. This is the way most tipping services have to operate these days. It's a simple formula. Give tips away for a year, build a following and track record and then start charging. If this is done correctly and honestly then it's a great way to build up a tipping business.
I decided to give the service a try. After 4 days I was quick to drop the service. My reasons were simple, I had joined up for a paid service that advised bets in similar races and I was put off by the fact no odds were suggested on the bets. This meant at the end of the day, I had no idea what odds they recorded their winners at and they never put these results up, apart from a graph of the overall results. Lets take a look at that graph.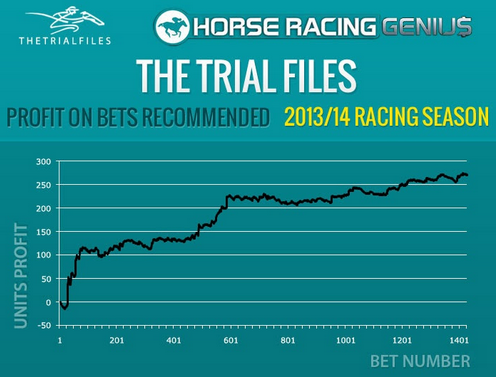 Here is a tip for anyone who is looking into tipsters and thinking about subscribing. Be very wary of a graph like this. Before reading on, have a look at it and see if you can pick out anything that might show it to be less then honest? Take your time, as it's a valuable lesson and may save you a fortune in the future. You can also compare and contrast it with my profit graph on the top left column.
Ok, let's see if you picked up what I saw. Firstly we see a massive winning streak very early on. In the first 100 bets the graph shows 100 units of profit. 150 units of profit are made over the next 1,300 bets. This is a classic sign of something being amiss. At the start, no one is watching. They have carte blanche to record whatever figures they want. As no one knows about the service, there is no one around to query the results. It instantly gives them a nice looking graph as well and people start following. I am not saying that they did not get off to this amazing start (that has not been replicated in the next 1,300 bets), but from the 100's of other graphs like this I have seen, 99% have been found to be fake.
So now they have made all this great profit in a short time and people start talking about them. So we see a more reasonable graph, one that goes from 100 units profit to 260 units in the next 16 months. Off course we don't know what odds they are recording at. They are without doubt recording at either highest fixed odds at time of release or if the price goes out, the highest Betfair price. So those parts that look like they are breaking even are in fact long losing streaks for followers. If it was possible to get the best odds on every bet we placed, we would all make a fortune from betting. Around the 500 bet mark we see another jump of about 70 units. Anyone betting knows we all go through troughs and peaks and this was a winning run they went on. Anyone just joining the service at this point then raves about it to everyone they know and their followers grow. We can see their current twitter followers now sit at 2,370. This helps them with social proof. If all these people are following this service then it must be legitimate. But people will come and go, follow the service, lose money and leave. But very rarely will they unfollow on Twitter or Facebook.
Now, If I was to simply look at the graph, I'd say that yes they may have embellished at the start, and yes they record at the best possible odds (lots do), but they probably would break about even under normal circumstances. Now this was the conclusion I came to many months ago. But it was a free service so I moved on. There are thousands of similar free services over the internet and people are free to follow whoever they want. Then last week I received the email announcing they were moving to a paid only service. They were now teaming up with Horse Racing Genius and becoming a paid service. I had largely forgotten about them and without one very clued up reader sending me an email, this article would never have been written.
The email they sent not only explained how well they had done over the past 18 months, it had that lovely graph above in it and then below they listed some of the horses they had advised and recorded as wins over the past. Let's see which winners they posted.
Looks very impressive, doesn't it. We have a $70 winner there, lots of $20 winners. These guys are the real deal right? umm wrong. This is the point where they did themselves no favors. Everyone received the same email as me and they can't delete emails. The graph alone was defensible. Showing specific winners can be easily verified by looking at the daily pdf's they sent out.
Once again a big thanks to Matt who went through all of these and helped verify the results. I will post snippets of his findings and then his summary.
26 October Ascot – Wild Charger $70.00

Mentioned 6 horses in the race worth considering including Wild Charger, and said it was a tough race, but no unit bets suggested

Suggested 8.75 units worth of bets on the day, but nothing on Wild Charger

Also was $52 best tote, never hit higher on bookies, don't know where $70 came from, betfair?
So lets see what the PDF file on that day looks like.
The race in question is Ascot Race 8. We see no suggested bets, only to look at the preview. The preview does indeed mention the horse, but also mentions 5 other horses and no bets are suggested.
Matt has sent me every PDF file showing no official bets (I would say an official bet has to show a unit size like the ones above.).
Matts summary:
Only 3 of the 13 winners "claimed" were actually suggested as actual bets with units provided.
That leads me to be certain that the 'profit graph' they have there is clearly including the above winners in the profits even though they weren't truly suggested bets, and allocating random unknown unit staking amounts to them
It's interesting they provide a graph showing their profits but no actual breakdown of every bet to show how the results were calculated. Again I'm sure it's because all of these winners that weren't actually suggested bets are included and they don't want anyone finding out
It also appears the win odds claimed are the absolute maximum possible best tote/bookie/betfair at any time of betting, there was no consistent method and obviously that an unfair way to record results that no-one can match
Summary
What more can I say about these guys, there is insurmountable proof that they have claimed winners that they never advised. Their results are clearly falsified and the worst part about it they have teamed up with an even bigger site and are now taking money from unsuspecting punters. Not only will these punters lose money following these tips, but they will be paying them for the privilege.
Horse Racing Genius (MVP Genius)
These guys are huge. The have their own offices in Melbourne and are (I'm told) raking in millions from subscribers. I read about them when they started and thought nothing of them again. Until now. They have over 800,000 followers on Facebook across all their products and over 27,000 for the Horse racing genius. What is surprising is their twitter followers. They sit at a whopping 21 for Horse racing genius.  Facebook is a much easier medium to control, as if anyone writes any negative reviews about you on your wall, you can just delete them. Twitter is a little harder. It seems weird to see a discrepancy like this. It could be simply because they decided Facebook was the place they wanted to be.
These guys are great marketers. They clearly come from the same start up space as me, do all the tests that need to be done to improve conversion rates and get new customers. If you're starting your own tipping site then it would be a good exercise to visit their sites and see how they do it.
Now it could have easily been a case that they took what the trial files team gave them in regards to records at face value. They maybe assumed they were on the straight and narrow and there was no need to verify the results. I would assume if you were going to partner with someone then you would look at basic things like record keeping at least. We will never know for sure if they knew in advance or not. What we do know is their reply once Matt brought it to their attention.
They replied to Matt and said:
I'd like to let you know that we are taking your email very seriously, and we will be removing previous Trial Files results from our website as early as tomorrow pending an investigation in to your claims.
Now this is a good first step. I can no longer see the results that were claimed on their website. But they still seem happy to continue working with them. The damage has been done though. I'm not sure of the numbers, but would imagine a few hundred people have signed up off the back of those results. Purely for integrity, The Genius group need to email everyone who joined the service and let them know the records were falsified and not a true account of the service. They need to offer a full refund for the service and also place a disclaimer on their site in case any new visitors come based on the false information.
Sadly it seems they have not told the Trial files guys about this stance as I just received an email once again advertising their product and quoting the results that Horse Racing Genius has now taken off their site.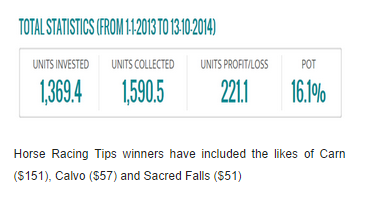 EDIT: I made a mistake here and believed these results were being claimed to be by the Trial files, these were actually the HRG results that can be verified on their site. This was a wrong assumption by me.
I will assume that the Genius team simplly did not do the necessary due diligence when working on this partnership. So while their business practices might not be the best, there probably has been no wrong doing on their part.
Until today. Yes folks, it continues…..
The first tip
If what happened on their very first tip is anything to go by then both parties seem content to continue recording misleading results. The tip was a Box Quinella on three horses at 0.5 units. Now every single tipping service I follow (and I follow a few) recommend bets like this. A box Quinella is simple, You select the horses all together and bet whatever unit stake was advised. The bookmaker then splits these up into 3 separate bets (or more if you select more horses). 0.166* units is then bet on the following 3 selections to result in a total stake of 0.5 units.
Horses selection 1 & Horse selection 2
Horse selection 1 & Horse selection 3
Horse selction 2 & Horse selection 3
When you explicitly say BOX, that is what is meant. Now let us see the advised bet and the results they recorded at.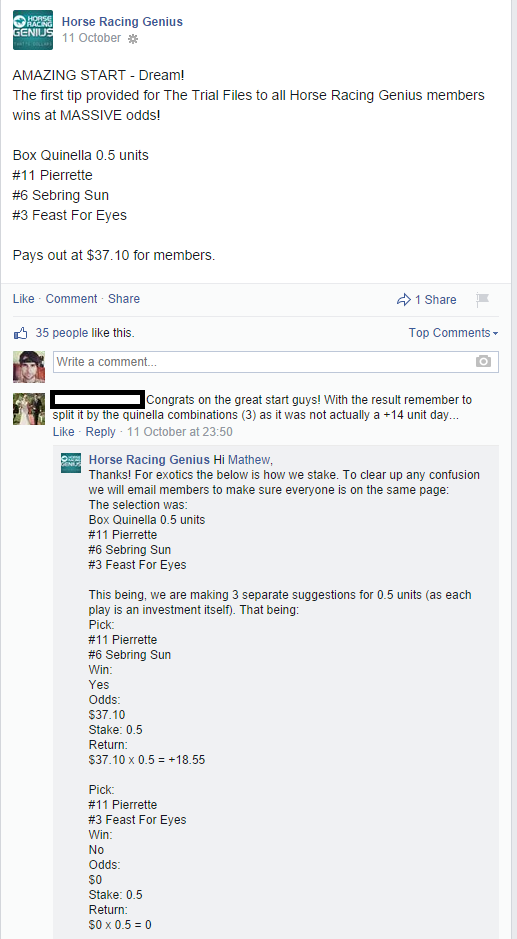 The amusing thing here is that a member had to explain to them how a boxed quinella really works and show that the 18 units they have recorded as a win should actually only be a 6 unit win. Instead of simply saying they messed up, after the fact they decided to say the way they record is to make 3 separate selections yourself. So do not BOX them. It's clear they are changing the rules after the win and had never explained this to members beforehand. They need to regrade this bet at the real profit, and if they do decide to continue their very strange staking, then that has to be spelled out to members and explained on the site.
When I look into a tipster there are many things I look for before deciding to follow them. These guys fail almost every single test. There are hundreds of Horse racing services out there, why would you spend your money on one that has clearly lied?
I am happy to post a full reply from the Horse Racing Genius team to clear up any of the issues mentioned in this post.
So why did I spend the last 7 hours researching, writing and editing this post. Because I am getting pretty damn sick of people taking advantage of punters. While I also agree it is up to each person to do their own research before spending their money, it makes it much harder for them to do research and come up with the correct conclusion if there is only falsified information to look at. The investment industry is probably the closest thing we can compare the tipster industry to. In the tipping world these lies are simply seen as the norm. If anything went on like this (anymore) in the financial planning industry for example, people would end up in jail. In future articles I will show the tactics dodgy tipsters use to build up a customer base, social proofing, misleading results and so much more. Hopefully once you know what to look for you will be able to spot these guys a mile off.
The Horse racing Genius service can still save itself from joining my dodgy tipsters hall of fame. All it needs to do is
Email all subscribers and offer a full explanation of what has happened (Results were not real)
Offer them all a full refund
Come out with a statement about the falsified results and link to that statement with a disclaimer on any page referencing the trial files service.
Create a document showing specifically what each bet means to them (boxed Quinella, Trifecta, so on)
Explain in detail their odds recording policy.
[mc4wp_form]