Dailyprofit NRL 2017 season begins
The new NRL season begins on Thursday and Dailyprofit will once again be sending out our plays for the season. The NRL model has been amazing since we started the service in 2014. Over the past 2 and a half seasons, we have placed 352 bets and turned over 603.7 units for a profit of 70.2575 units at an incredible 11.64% ROI.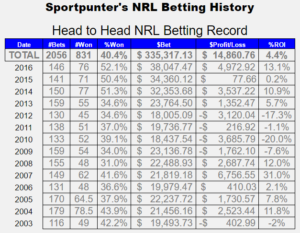 The Dailyprofit SP service uses the Sportpunter models with a 1 hour time delay. The Sportpunter service is for the pros and the Dailyprofit service is for the regular hobby punter. The Sportpunter NRL H2H model has been running for 15 years now and over that time there have been 2056 bets for a 4.4% ROI. Also note that the recorded odds are just from one bookmaker (Pinnacle), so by shopping for the best odds, you can dramatically improve that result.
In 2014, Jonno changed the model from a team based one to a player based one and results have also improved. 2056 bets is a big enough sample size and we see a very good ROI. There is no doubt in my mind that this is a very profitable model. But with an average of 150 bets a season, variance will always play its part and as you can see, there will always be losing seasons (5 in the last 15 years). But the winning ones more than make up for them.
2016 results
The model advised 141 bets in 2016 and we turned over 354.20 units ($35,420.00 @ $100 per unit). We won 51.8% of our bets and netted a total profit of 43.2575 units ($4,325.75). The return on investment was an amazing 12.21%.
As mentioned earlier, the all-time stats for the NRL model with Dailyprofit shows a 70.2575 unit ($7,025.75) profit at 11.64% ROI over 352 bets. You can download all Dailyprofit past bets and results on our results page.
How we record odds
Most other services like to do a few dodgy things to make their results look better. They might send out bets very early in the week when the markets are inefficient. The issue with this is that the max you can bet is about $20 and bookies will limit you quickly. They also like to pick the very best odds possible. But as you know, odds can move quickly and it's almost impossible to match these odds.
We have always done things differently at Dailyprofit. We send our bets on the day of the game (12:30pm), which means you can get on for whatever you like and the bookies won't shut you down. We take the average price between Pinnacle (the market leader) and the Best Aussie bookie. This means if you have access to all bookies, you will beat the recorded odds on every single bet. We like to call our odds recording policy the "lazy mans odds". That means that you should at worst match our official results and with no effort, easily beat them.
What you get
The Dailyprofit SP package is $98 per month. For less than $25 per week, you get.
Access to all SP bets. NRL, AFL, NBA, MLB, NFL
Access to a forum where you can chat to other like-minded punters (over 300 members)
A heap of educational content
Access to new products before anyone else (there are a few coming in 2017)
For $1 extra, Australian members can get VIP access which also gives them the Value & Risk Free service. This service takes advantage of the ongoing bookie promos and shows you the exact bets that you should place to make almost risk free profits. These are complimentary products, as bonus eligibility lasts much longer when you are also placing normal bets.
How to sign up
All you need to do is head to the Dailyprofit site and subscribe to the All Sportpunter package (or the VIP package if you like). Become a part of the Dailyprofit community today.