Dailyprofit 2019 Survey results
Every few years I like to get feedback from Dailyprofit members. This helps me see how they are performing and how I can improve the service.
The Dailyprofit service has been running for over 5 and a half years now and is based on the Sportpunter service which has been providing profitable bets for over 18 years. In a world of fly by night tipster scammers, the Sportpunter service is the only constantly profitable model I have seen.
This year, 1 in 3 current members completed the survey. If you are thinking about joining the service, the feedback below might be useful.
How long have you followed the service?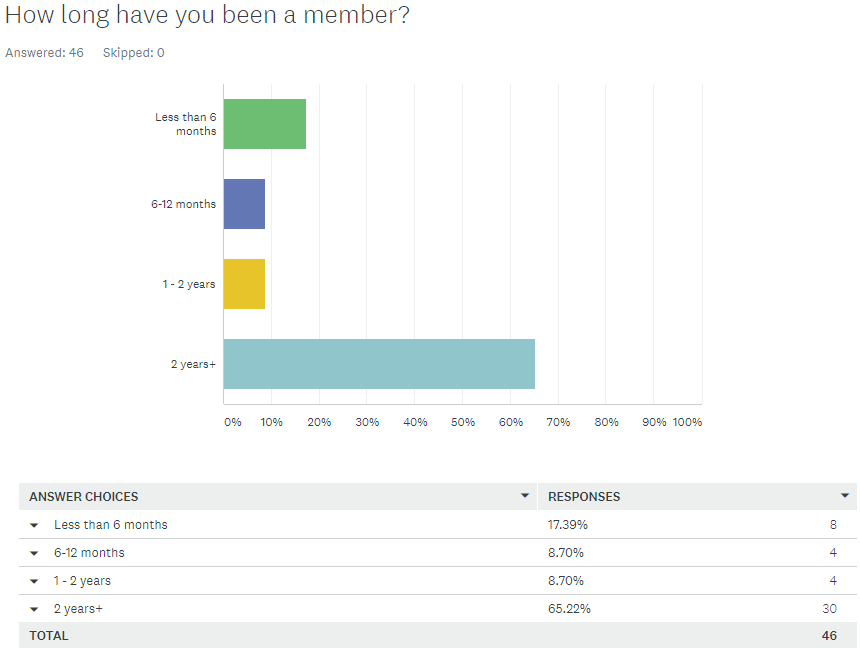 The vast majority of Dailyprofit members are long term members. That means once they see how great the service is, they stick with it. At the end of the day, there is only 1 reason to stay a member of a tipping service and that is if it continually makes you a long term profit. As my friend likes to say, "We're not here to fuck spiders".
Which models do you follow?
Most members are following all 4 models we offer. While the AFL and NRL have not been performing well over the last few seasons, the NFL and NBA have more than made up for them. We are looking to add more sports in the future (MLB, NHL and Tennis might make a comeback).
It's a smart choice to follow all 4 sports as we never know which sport will produce profits over a short period of time. We believe over time, all the models are profitable, but over any small period of time, we can't know when the profits will be made. By having a diversified portfolio you allow yourself to lower the risk while still achieving a great return on investment.
How much do you bet per unit?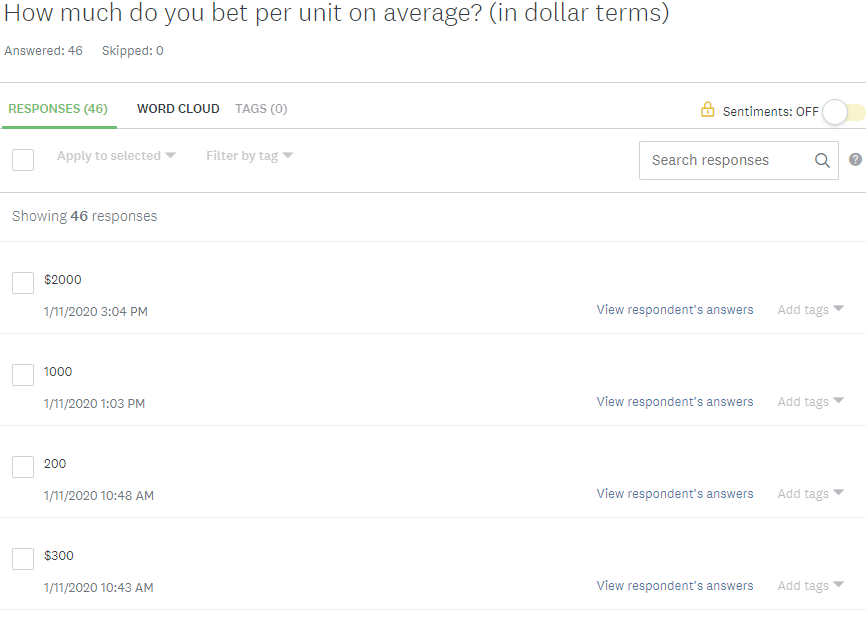 The average bet per unit was $212.60. We have some members betting as low as $40 per unit and others betting $2,000 per unit. It's silly to extrapolate this data, but that would mean that each unit we suggest to bet is backed up by around $30,000 of members funds. in 2019 the average unit bet was 1.75 units and the total units we bet were 1,539.70 across 884 games.
That suggests members were betting about $52,500 per game and turned over $46,191,000.00.
I would advise anyone thinking of joining to be betting a minimum of $100 per unit. We aim for a 50-100 unit profit each year and you want to be able to cover the subscription cost and make a decent profit.
What is your current bank size?
Again, we have a very diverse group of members. Some with massive banks and others with relatively small banks. The biggest bank was $300,000 and the smallest was $4,000.
The average bank size was $31,535.00 which is actually higher than I would have expected. With an average unit size of $212, we advise a bank of 50-100 units depending on a members appetite for risk. With an average bank of 148 units, we are seeing that Dailyprofit members are on average very risk-averse. This is great in that they are likely to never bust their banks, but it is also keeping them from reaping more profits from the models.
Usually, a bank size should be 2 times the largest drawdown and we have had a 70 unit drawdown in the past, so members have taken this on board and the average bank size is exactly what it should be. Over the years, as we have learnt how the models perform we have also changed when we should be following certain sports and bet types, and I think we have removed a lot of the volatility, so going forward I think a 60-120 unit bank seems to be a good balance between high to low risk.
What was your 2019 profit?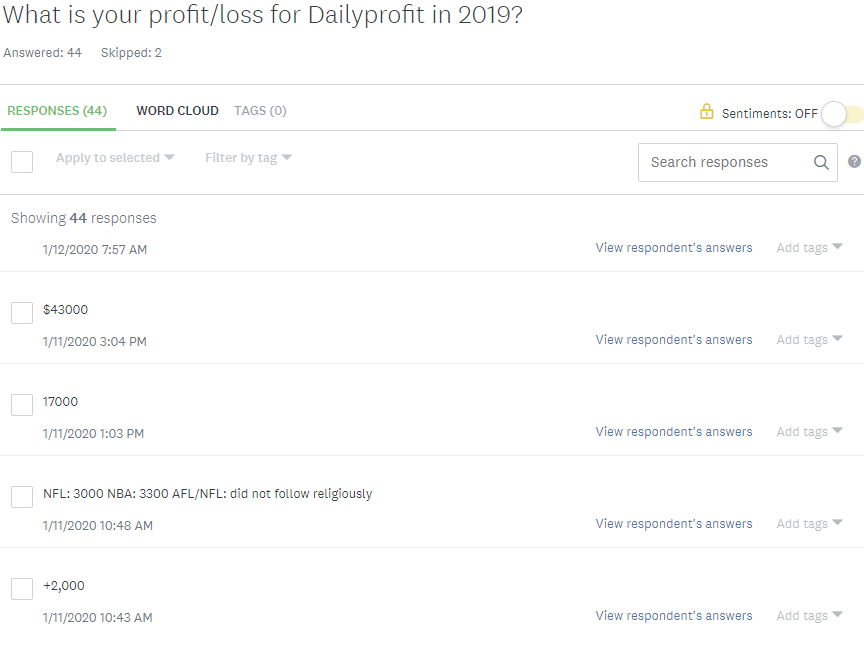 In total, surveyed members made a profit of $282,405.00 in 2019. The highest profit was $43,000 and one member said they lost $2,000. The factors for the large range would be when someone joined and how much they allocated to each sport. That averages out to $7,241.00 profit per member.
The official results showed a 56.73 unit profit in 2019, and with an average unit of $212.00, we would assume an average profit of $12,026.00. But we have to take into account that 26% of respondents were not members for the entire year and not all members follow all models.
There is also another important question which needs to be answered.
Were you able to match or beat the official odds?
This is a very important question. Unlike most tipsters, we have a results spreadsheet updated weekly on the site. At any time you can go and see how we are going. Other tipsters will release results but love to pad their odds by recording the best price from all bookmakers or using other tricks to increase their make-believe profits.
In 2019 this is how we recorded odds.
AFL and NRL: Second best price in the Australian market (across about 10 bookmakers) at time of release on the day of the game.
NBA and NFL: Pinnacle odds at the time of release (12-18 hours before games start).
This was an even split. 50% matched/beat prices and the other 50% said they couldn't. I think this is about right as a mix. It shows that if you are committed to getting your bets on as soon as bets are released then you should be able to match the quoted odds. It is one of the hassles of a profitable model when people are trying to get $50,000 down on a market, the prices are going to drop very quickly. We only advise bets on major markets with fairly large liquidity.
Would you recommend Dailyprofit to a friend?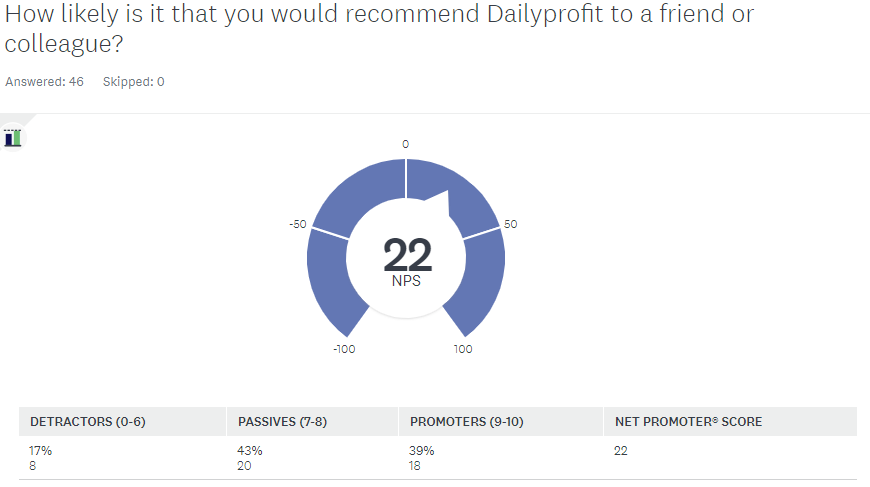 I'm extremely proud of the Dailyprofit community. The service has grown over the years due to word of mouth and this blog.
An NPS between 0 and 30 is seen as Good and anything over 30 is Great.
The very fact that we are a tipping service and the more members we have the more competition members have, means that for the most part, people would not want to promote a winning service. I believe the testimonial below is a good indication fo that.
Sorry, but really not in our interests to be growing your customer base and increasing our competition and decreasing website reliability. As I said before, would rather see higher prices than more competition.
To achieve that score tells me we have a fantastic service but there is always room for improvement.
Other questions
I also asked members how I can improve the service and what I got right and wrong over the past year. I will be answering all of those questions for members on the Dailyprofit site.
Testimonials
At the end of each survey, I ask members if they would like to add a testimonial. I think these are the best part of the survey. Hearing from other people who have taken the plunge of signing up for the service.
You can join the Dailyprofit service at any time, the current price is $139 AUD per month (so much less in Euro, GBP, USD) and will stay that way until the NFL and NBA season start again, when it will move to $199 AUD per month for new members. A hard cap of 140 members will be set for the service from the middle of this year.
Been following the service for a few years, and have been profitable every year over that time. Not only am I winning, but I am continually learning from Steve and Jonno on what it takes to be a profitable social punter – Sam

Dailyprofit delivers on its promise – a no B.S. tipping service that will make you a long term profit. Their track record speaks for itself. – Luke

The only tipster service that can truly hold its head high. Sam

As a recreational, retiree punter,the service gives me the enjoyment of placing bets and then following many different sports I would not normally have thought about previously. Dave

Steve is great at getting the suggested bets out on time, or communicating when there is going to be a delay. Very realistic about the kind of returns you can expect from the service (doesn't promise to make you rich quick) and records results transparently and fairly. Great service. Cheers, David

Daily Profit continues to be a fantastic service that allows me to bet without spending hours on my own research. A quick easy format to follow and with continued great results it's awesome buying new toys guilt free 🙂

The only honest, transparent and profitable betting service I know of. Daniel

Sorry, but really not in our interests to be growing your customer base and increasing our competition and decreasing website reliability. As I said before, would rather see higher prices than more competition.

In 2020 I've vowed to only align myself with handicapping services I can trust….I can trust Steve and have no regrets! [Jamie]

Most transparent and honest operator (betting service) in a dishonest industry (betting companies). Reliable and responsive, you really are a member not a number. Paul

Have been with DailyProfit almost since inception and over the years it has proven to be the most reliable tipping service I have found.

I've been a member from the beginning, magnificent service. In a world full of lying sharks, Daily profit is legit and profitable, pure gold Chris

When I started with daily profit my mate and I use to bet $10 a week mostly on multis. We came across daily profit and with the help of a friend who backed it we quickly made a couple of thousand within weeks. 60k profit in 4years speaks for itself. Thanks so much. Andrew

This must be the best tipping service around!

I've been with Steve's Daily Profit service for 5 years. Steve is the best. Honest, trustworthy and always quick to reply to emails. You can lose money, and you won't get rich, but long term, the service will make you money if you follow what Steve says. Matt

Daily Profit consistently beats the game if you are patient and follow their advice. A must have in any punters portfolio. Greg

This is a fantastic service for anyone who wants to bet on sports. It's easy to understand, and gives you an easy to understand staking plan. No matter how big or small you want to bet this is a service for everyone. Very consistent service, that is not too expensive. Brad

Its a quality service I have been quite successful with horse racing, although that is getting harder due to tighter markets as a result of the new fees and taxes from racing authorities and state governments. The sport punter models have given me a new revenue source. John

I've subscribed to countless sports betting services over the last 20 or so years and in the end only those coming out of Sportpunter have proven to be profitable over the long haul.

Amazing service with a great team behind the scenes. Love jumping each evening to grab the next set of units to bet on. Brenton

Sam – This service has given me a massive financial kickstart, Steve is completely transparent and often undersells what is an amazing service

Trust the process and Dailyprofit will deliver you long term profits

Rock solid every year, forget the rest this is the best – Geoff B
If you're interested in joining the world's most honest and transparent tipping service. Sign up now.