Maybe Matched betting isn't dead
Last month we closed the Dailyprofit Value service down and I asked if matched betting was dead? I also linked to a service that was still going strong. This month we are talking about another matched betting service from a member of the Dailyprofit service. It seems matched betting in Australia is still a profitable venture.
The service is called Bonus Money and it offers some unique tools that help matched bettors make more money and save time.
I'll let Adam from Bonus Money talk about the software he has created to help you take advantage of the bookmakers offers.
There is also a 50% off offer for your first month at the end of this post.
---
Horse Racing
First off is the 'Matcha' a tool designed to give you an edge using horse racing promotions.
Horse racing is one of the greatest opportunities for matched bettors in Australia. There are a heap of bonus specials for your horse running second or third every week. Not only that horse racing can be a great way to turn any bonuses you gain in to risk free profits. The issue with matched betting horse racing is that there is usually very little liquidity in the Betfair market for you to create a lay bet. Liquidity starts appearing in the market 10 minutes before the race starts but then the horse prices can jump around quickly. Calculating your matched bets is traditionally done with an oddsmatcher for sports but in this fast paced environment it doesn't work well as by the time you've gone from the oddsmatcher to the page either the bookies odds or Betfair lay odds have changed.
The Matcha by Bonus Money is a chrome extension that overlays information on the bookies site so that you can quickly identify good matches to either qualify for these bonus bets, turn your bonus bets in to cash or even look for arbs.  It does this using a simple, but configurable traffic light system. When Matcha goes green, you are set for a good bet for your qualifier or bonus.
The configurability of Matcha means many Bonus Money members also use it to show the best value options in a race, based on the Betfair prices. Set your commission discount to 100 and you have a perfect advantage play tool.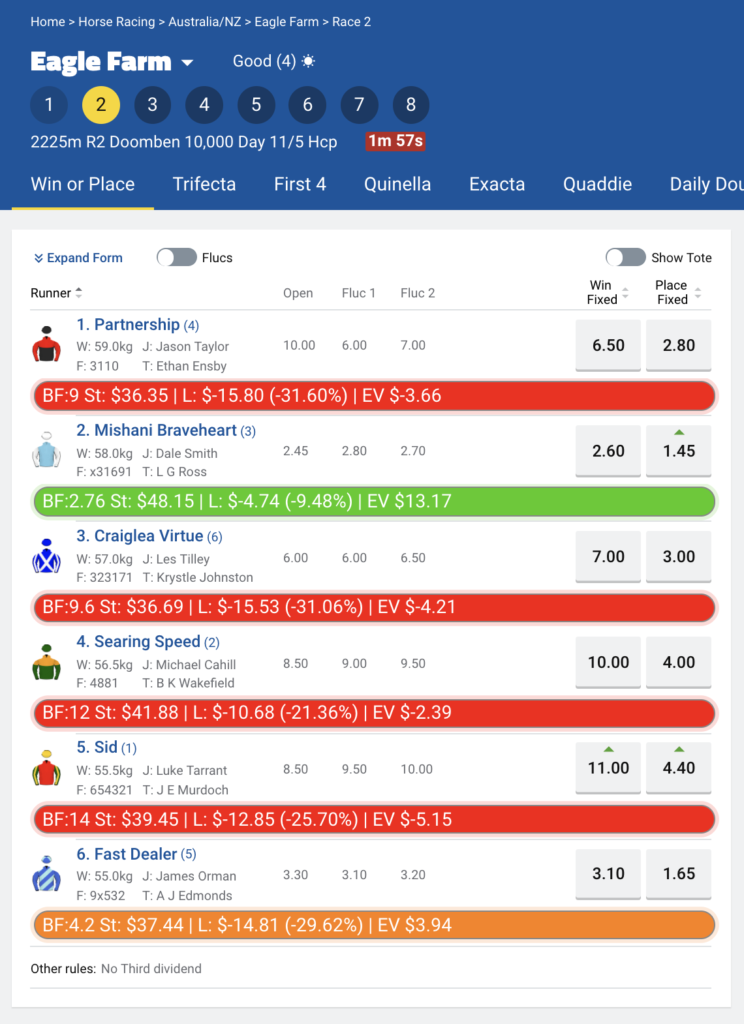 Dutching
Virtually every AFL, NRL, Big Bash or other major sporting events will have many of the corporates offering bonuses when certain events trigger. Rather than backing and laying every bet it is usually best to 'dutch' the offers to decrease your qualifying cost. Many people follow daily plays to get an idea of the bets to place. While a useful tool for people new to matched betting anyone who has been in the game for a while will inevitably receive a promo ban from one or more of the bookies. These daily plays then become awkward to use as they have a set list of bets to make. The Bonus Money dutching software pulls in odds from the bookies and calculates for you the cheapest way to combine all the offers. You can remove any bookies you are gubbed from and still have the cheapest way to combine all the offers.  It's like a daily play, customised just for you.
Fully Featured
On top of the world leading horse racing and dutching software Bonus Money has all the standard software offered by matched betting services such as odds matchers, calculators and guides. The most comprehensive calendar of offers that breaks down the 'expected value' of each offer. The community of matched bettors is the most developed and experienced in Australia and the Bonus Money team pride themselves on offering personal support to all members no matter what stage of the matched betting journey they are on.
You can access Bonus Money for free here where if you are totally new to matched betting you can use their guide to matched betting to make your first profits.
The free membership will also give you access to test their horse racing software with one bookie: Sportsbet.
The Bonus Money Pro service gains you access to their pro community, horse racing software for the 15 major Australian Bookies so you can take advantage of the $500+ of value on offer each week, the offer calendar, dutching software, oddsmatcher, tools, guides, info and support.
Bonus Money Pro is $49 a month and comes with a 30 day money back guarantee.
As an introductory offer just for you guys, Daily 25 readers can gain access to the Pro service half price for the first month – just $24.50 using this code DAILY25
Click here to gain access to Australia's leading Matched Betting service