Sportsbook Idea #1
The current crop of corporate bookmakers like to think of themselves as innovative and "on the pulse" of young gamblers. Nothing can be further from the truth. The only reason they continue to get more and more customers is because we love to bet, and in a heavily regulated market, there are only so many places we can do that. Many of the big corporates actually have "ideas" guys and teams that are working 24/7 on new ways to entice people and extract money from them. For all the money they spend, the so called most innovative thing they have come up with in the past year is an ATM card that allows you to withdraw winnings quicker. The Ladbrokes group came up with this so called "Ground-breaking" new idea last year and Sportsbet followed suit in November. The amusing thing is that over 10 years ago the online casinos had already figured this out.
The Sports betting market is ripe for a tech driven start-up to really challenge these incumbents and take a massive market share. What we have at the moment is a bunch of marketing companies that assume they are doing an awesome job because they continue to get more and more customers. They have found that all you need to do is entice people with free money, keep offering them more free money and offers until they become hooked on betting. They then simply ban any users they think will cost them money in the long term. This is a sound strategy in the early days when you have 0% – 50% of the market. Eventually you will have the vast majority of people who were going to sign up and you have to make as much money from them as possible. The issue is, these people have grown accustomed to only betting when a bonus of some sort is offered. That's when these marketers (to call them bookmakers is an insult to bookmaking) are left with no other avenue but innovation.
From the numbers I have seen, there is about 3-5 years more growth in store for these so called bookies. That really is not all that long and if they can not provide some innovation before that time, than we will see a large number of these guys go bankrupt/merge/be bought out.
I
like to think of myself as a bit of an "ideas" guy. I have a list of about 50 ideas related just to sports betting. Jonno (from Sportpunter.com) and I were talking on our recent Superbowl trip about life in general, potential business ideas and the normal crap two mates talk about when they have had a few too many beers. We both came to the conclusion that we were deliriously happy with the lives we have now and would never want to start up a big business. Running a large company takes away time from the things we truly value (family, friends, doing whatever the hell we want). We are blessed to be able to work from home and only put in as many hours as we want each week. We are by no means "retired", but do live a lifestyle that from the outside seems to be that way. I may go months without really doing any work, and than I might be inspired by an idea and spend 100 hours a week working my arse off.
Ideas are pretty worthless really. The execution of an idea is where any profit is made. You could have the greatest idea in the world but if you never do anything about it, it will always be worth jack shit. So I have decided to give all my ideas away. Any bookmaker can use any of these ideas to create even more profit for their shareholders. If a bookmaker wants to hire me as a consultant, I would be happy to share some of my better ideas with them. Every few months I will put a new idea on the blog. I'm starting with a very basic idea as I wouldn't want to give away my best stuff too soon.
Idea #1: The Birthday/Christmas Bet
It's your birthday and you are expecting the same old stuff. Some alcohol, a gift card or a lotto ticket and some scratchies. Let's talk about that last present.
Lotto and Scratchies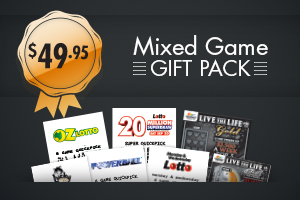 Without fail I will get one of these packs for my Birthday and Christmas. It's usually a $50 giftpack with a mix of lotto tickets and a few scratchies. It entertains you for all of 30 seconds.
What are the true odds of these "gifts"? After some research, I found that the Prize funds for Lotto and scratchies are 60% of the total money taken. So if the state lotto prints $1,000,000 worth of a $1 scratchie, there will be $600,000 worth of prizes and they take $400,000 for themselves. For every $1 you spend on these you can expect to lose 40c. So that $50 gift pack will return about $30 on average. The "Prize fund" also includes free tickets, which means the real value is even less.
We can compare that to the Australian bookmakers and the cost of a simple bet. Most Aussie books have odds of $1.90 for a 50/50 chance. That means you can expect to lose 10c for every $1 invested. A $50 bet will return $45 on average.
The difference is that you will only be able to almost double your money with the Sports bet, but the max prize for that $1 scratchie is between $10,000 – $25,000.  I can't be bothered to dive into the maths too much, but you could create a multibet with between 14 and 15 $1.90 selections that would pay close to $10,000 if they all won. How often would you win this mega multibet? Once every 16,000 goes. Now that might sound like a horrendous chance of winning, but when we look at the same chance of winning the $10,000 with a scratchie , it starts to look awesome. The chance of winning the top prize of $10,000 on a $1 scratchie is a whopping 1 in 700,000. You are 43.75 times more likely to win that $10,000 by betting the multi. There are a few things we need to take into account here. The multi bet is a simple win or lose proposition, whereas the scratchie also offers many other smaller prizes. You could also add in larger priced selections in your multi and lower the selections needed to win and increase the chance of hitting it.
All this maths is just to show that the lotto does not even compare to the chances of sports betting.
So what's the idea already?
I'm sure you have already figured it out. The idea is that instead of buying your mate or dad a lottery ticket for his next birthday, instead you get him a sports multi. The odds are heaps better and the fun can last much longer. It will be the bookies job to make it as painless as possible to place these gift bets.
How it would work.
You log into your own account and can either:
Create the multibet yourself OR
Choose the Gift amount, type of sports, type of bets, and a few other variables.
If you choose number 2 then a randomly generated multibet is created from your variables. You can choose to have just 1 multi or have a boxed multi (where there are lots of smaller multis included in the big multi bet).
You then input the name, address and email of the recipient and can have the bet either sent to them via email or in the post (It would come with a nice birthday card as well). The ability to share the bet on social media would also be available.
If the bet wins, your friend just needs to open an account with the bookmaker using a code and the funds will already be in his account. If he already has an account, he just needs to add the code in his my account section and the funds will be added.
Why this would be massive for Sportsbooks.
There are so many reasons this is a great idea for sportsbooks to implement. Bookies push multi bets for one reason, they make them a massive amount of profit. The more selections in a multi, the more profit the bookies make. There are a heap of other reasons to create this product.
Brand new revenue stream: I'm not sure the amount spent on lotto as gifts each year, but I would assume it is in the Billions. This would take a percentage of that market. It would also make it more likely for mates to give each other gifts each year.
New accounts: This will drive more new accounts, as winners will need to create a new account to receive the funds. You would also pay the person who gave the gift the refer a friend bonus, making it even more likely they would purchase the gift.
More multi bettors: You now have a customer who thinks winning multi bets are common place and has what they will see as free money. They are highly likely to bet and lose this money, and highly likely to not only reciprocate the gift, but also buy others a gift multi.
Free database of potential new clients: Even if the bet losses, you now have the contact details of a potential customer who was referred by a friend. You can offer them a second chance draw, or a sign up bonus to turn them into a customer.
Media opportunities: You can already see the headlines now. "Mate gifts mate $100,000".
Word of mouth: This gift will be the one all the friends talk about on the night out, they will all follow along and see how it is going. This would build brand recognition and make it more likely that they would create an account.
These are just the benefits off the top of my head. While it would be a very niche product, it is a one off cost to create it and would lower the cost of acquisition (CAC). The first bookie to implement it gets the first mover advantage and all the free press.
So that's idea number 1 for the bookies. Over the next year you will see many more ideas. Sportsbooks need to act like start-ups and test as many new ideas as possible to see which one sticks. You only need 1 new idea out of every 100 to work to make a very healthy profit. Hopefully by Christmas time, I will be able to buy my friends a bet.
What do you think about the idea? Would you use it? Do you have any great ideas for the bookies? Let me know in the comments below.