May 2018 Monthly Review +$18,950.00
Apart from 1 more weekend of AFL and NRL in June, May has wrapped up year 8 for me. Next week I am off to Russia for the World Cup and am adding on a small euro trip as well (mi scusi). I will be posting images and videos from the trip on my new Instagram channel. I'm also giving away $1,800 thanks to Topsport for people who follow me there and on Twitter.
The graph below shows the story. The month started well and at one stage on the 12th of May I was sitting on $20,000 profit. But a week later, that had turned into a $14,000 loss. Thanks to what I will forever refer to as Super Sunday (where every NRL and AFL bet won), I managed to hit $26,000 profit, before a big bet on the Thursday night NRL game gave back $6,000.
In total, May saw turnover of $284,430.00 for a profit of $18,950.00 at 6.66% ROI.
I placed 103 bets over the month and won 55 and lost 48.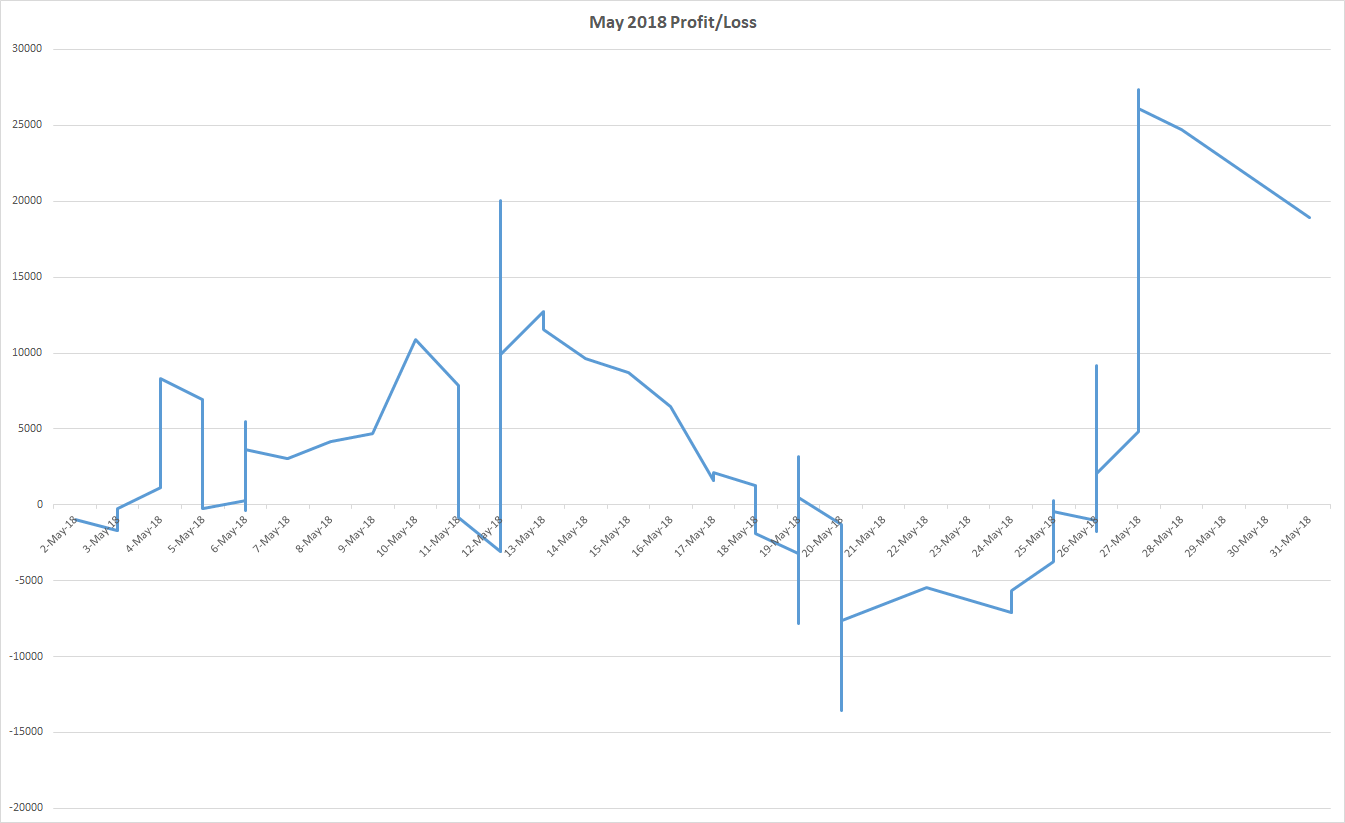 AFL
The AFL H2H bets saw turnover of $55,920.00 and a profit of $7,050.00 at 12.6% ROI. I placed 22 bets and won 13 of them. The Line bets hit 57.7% with 15 winners from 26 bets. I turned over $111,440.00 and won $12,410.00 for a 11.1% ROI.
It was a fantastic result on Sunday with all 3 H2H and Line bets getting up for a massive profit. It also meant the AFL is back in profit (a tiny $1,080) after a very poor start to the year.
NRL
NRL turned over $74,620.00 on the H2H bets for a loss of $6,420.00 at -8.6% ROI, I also turned over $16,140.00 on Totals and made a profit of $350.00 at 2.2%.
Two massive bets on the Dragons and Sea Eagles cost me over $14,000 in May.
NBA
The NBA went into playoff mode in May and that meant lower turnover of $26,310.00 but a healthy $5,560.00 profit at 21.1% ROI. June only has the finals series to go and it looks like the bookies have the totals about right. I doubt I'll be having a bet before I leave. That means the season ends with $49,490.00 profit at 9.0% on the Totals and a $13,830.00 loss at -6.6% on the H2H bets. Total profit is $35,660.00 at 4.68%.
A great month and all things going well the first weekend in June, I "should" end year 8 in profit. Thanks for coming back each month to check up on how I am doing and all the support over the past 8 years. Don't forget to follow me on Instagram.
If you want to get the same bets as I do, join the Dailyprofit service.
Total Profit for the month was $18,950.00
[mc4wp_form]
Stats Year 8
Total bet amount: $2,155,060.00
Profit/Loss: $32,080.00
POT: 1.49%
Bets Placed: 1427
Won: 724
Lost: 690
Half Payout: 2
Refunded: 11
Winning %: 51.2%
Total profit per day: $360,660.00 / 2891 = $124.75
Total Turnover: $32,401,370.00
Total ROI: 1.11%
| Sport/Tipster | Wagered | Profit/Loss | ROI | May P/L |
| --- | --- | --- | --- | --- |
| AFL H2H | $218,080.00 | -$5,250.00 | -2.4% | $7,050.00 |
| AFL Line | $428,000.00 | -$19,970.00 | -4.7% | $12,410.00 |
| NRL H2H | $405,820.00 | $3,120.00 | 0.8% | -$6,420.00 |
| NRL Totals | $78,560.00 | $2,460.00 | 3.1% | $350.00 |
| NBA Totals | $552,580.00 | $49,490.00 | 9.0% | $5,560.00 |
| NBA H2H | $208,240.00 | -$13,830.00 | -6.6% | $0.00 |
| NFL Totals | $192,590.00 | $22,760.00 | 11.8% | $0.00 |
| NFL Line | $64,820.00 | -$3,000.00 | -4.6% | $0.00 |
| Mistakes | $6,370.00 | -$3,700.00 | -58.1% | $0.00 |
| Total | $1,870,630.00 | $13,130.00 | 0.70% | $4,020.00 |