October 21st – November 3rd +$50,990.00
I'm back from the World Cup and talk about living the dream. A little over 5 years ago this past week was the exact dream I had in mind. Travelling the world watching big sporting events while making a heap of cash doing it. The world conspired to make it happen, at least for one magical week. This post covers the past fortnight, but most of the profit was made from the moment I left Sydney to the moment I left London 8 days later.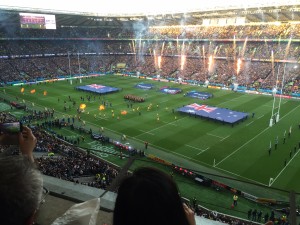 I'm not a fan of rugby, but I did enjoy the 3 games I watched. But with any trip like this, the games are great, but it's all the other stuff (drinking, touristy stuff, meeting people) that makes the trip. The "other stuff" was really amazing, I got to catch up with some old friends and meet some new ones. I doubt I'll ever forget singing an Oasis song at the top of my lungs along with about 5,000 others as we drank the Heineken tent dry after the game. I'll do a full post summing up both trips this year when I get a chance.
It's always a struggle to place bets when you're travelling. A laptop screen is no match for the 3 screen set up I use at home. But you get used to it quickly. The time difference is an added complication and that resulted in a few bets being missed. Apart from that, the UK is a great timezone to place bets. The American sports are over by the time you wake up and the Soccer is a nice backing track while drinking in the pubs.
I left Sydney on Saturday night and had finished placing my bets at the airport. There was a heap of Soccer bets and I wouldn't know the results until I stopped in Dubai. It was a short stopover and I didn't get a chance to check the results so when I arrived in London I was pleasantly surprised to see a massively winning week. During the 24 hour flight I managed to make about $20,000. That week also saw the return of the NBA and with it some great profit. The NBL also managed to turn things around. The only negative was the NFL totals. I was sitting on over 86 units ($86,000) when I took off from a foggy Heathrow, but  when I returned to Sydney it was a much more modest (well not really) 68 units profit.
Lot's to catch up on so let's start with the Sportpunter bets. The NBL totals were on fire this week, adding $16,250 profit and the Line bets also added $1,200. The MLB season ended and like many other SP models it ended poorly. The first half of the season always seems to do so well and then gives a lot of profit back in the second half. We ended the MLB season with a $2,500 loss. As mentioned earlier, the NFL totals had a nightmare and ended $9,700 down for the two weeks, the Line bets made $900. NHL totals have been doing well with very few bets. I've only placed 24 bets this season but when they are hitting at 70.8% of the time there are no complaints from me. The NHL ended the fortnight up $4,650. What a start for the NBA totals, and it continues on from previous years. I just hope the new tweaks Jonno has made to the model results in these returns happening all season long. Totals made $17,250 and Head to Head bets made $400.
Dailyprofit members managed to live without my presence for a week and a big thanks to Josh for looking after the site while I was away. I will catch up with all the emails over this week, so for those who emailed, expect a response soon.

The Soccer combo system continues to perform and I feel I have perfected my staking and how I deal with opposing bets. I still need to work out what odds I should be aiming for. Once that is figured out, I can put this on auto pilot and hopefully reap some great profits over the next year. A further $17,500 profit was added over the past 2 weeks. The TFA Euro picks lost $5,000, but the Draw picks (with a bit of combo betting thrown in) made a very nice $8,300. My own personal bets also made $1,650.
These are the rare spike times and experience has taught me to enjoy them whenever they show up. It could be a very long time before I see another spike like this one. I'm ecstatic to be sitting on a healthy profit, but know there are still 8 more long months of betting ahead in year 6. I'm not too far from reaching 50% of my final goal of $1,000,000. If I can bring up the $500,000 profit mark by the end of this year I will be very happy. We will have to wait and see if that will happen.
Total Profit for the week was $50,990.00
[mc4wp_form]
Stats Year 6
Total bet amount: $1,912,850.00
Profit/Loss: $72,320.00
POT: 3.78%
Bets Placed: 1521
Won: 549
Lost: 709
Half Payout: 21
Refunded: 242
Winning %: 43.6%
Total profit per day: $458,380.00 / 1952 = $234.82
Total Turnover: $23,798,088.00
Total ROI: 1.93%
NBL Totals $42,760.00 $11,030.00 25.8%
week profit/loss: 16260
NBL Line $44,280.00 $(6,370.00) -14.4%
week profit/loss: 1220
MLB Totals $501,700.00 $(22,410.00) -4.5%
week profit/loss: -2500
NHL Totals $43,020.00 $13,140.00 30.5%
week profit/loss: 4630
NFL Totals $69,840.00 $(16,480.00) -23.6%
week profit/loss: -9670
NFL Line $72,250.00 $16,230.00 22.5%
week profit/loss: 880
NBA Totals $52,580.00 $17,250.00 32.8%
week profit/loss: 17250
NBA H2H $19,770.00 $400 2.0%
week profit/loss: 400
Soccer combo $261,650.00 $50,890.00 19.4%
week profit/loss: 17520
E1-E6 $17,000.00 $(4,720.00) -27.8%
week profit/loss: -5020
D1-D6 $17,000.00 $9,380.00 55.2%
week profit/loss: 8300
Jason Kelly $5,290.00 $(5,215.00) -98.6%
week profit/loss: 0
Betswot $2,925.00 $(236.80) -8.1%
week profit/loss: 0
Odds Pushed Out $18,000.00 $350 1.9%
week profit/loss: 60
Personal $296,550.00 $(6,650.00) -2.2%
week profit/loss: 1660
Mistake $2,500.00 $2,563.25 102.5%
week profit/loss: 0