A readers PuntingPal experience
A few months ago I wrote about a new Vanuatu based bookmaker that in my experience is so much worse then all the current Australian crop. They closed my account and took back free bets within weeks. I received a number of emails from readers with their stories and the following is just one of the emails I received. I do recommend taking advantage of their signup offer and cashing out asap, just know that it is a risk as I doubt they will be around for much longer.
A PuntingPal Experience
Back in mid March, I heard about a new bookie on the block – PuntingPal. I noted they were based in Vanuatu so initially I was weary however I eventually took the plunge and joined after reading they offered some online in-play options on some Australian sports (NRL and AFL). Another plus was that they offered a 100% matched bonus bet upon joining.
Here is a breakdown of 4 weeks as a PuntingPal member:
– Bet through most of my bonus bet and initial deposit. Withdrew a small profit without any fuss
– Continued to bet on racing with small bets of between $10 and $50. On April 2, I received the following email: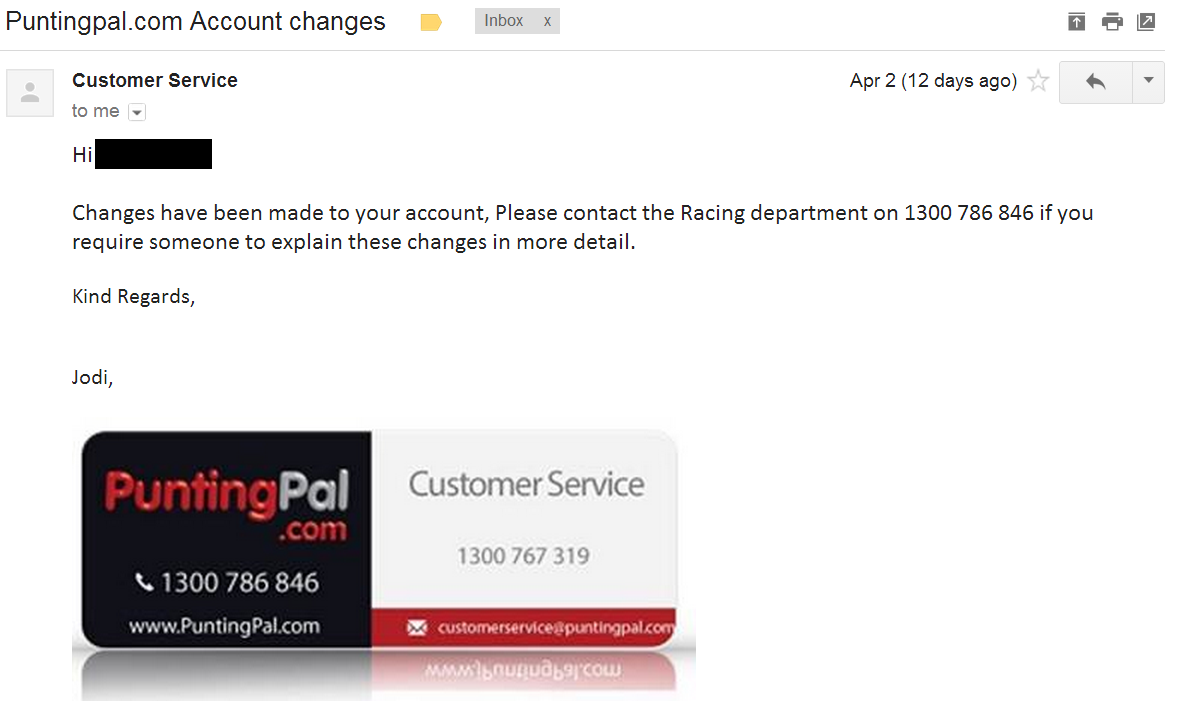 I then received a phone call from PuntingPal advising that I had been taking fixed odds for racing that were "unsustainable" for them payout. I was informed that fixed odds options for racing would be removed from my account. The word "unsustainable" are their words, not mine. I'm not sure what is so "unsustainable" since my bets were small and on reasonably priced runners. Here are some of my bets leading up to the call on April 2
As you can see, I turned $23 into $247. So a $200 profit. Hardly "unsustainable" for a bookmaker since I obviously wouldn't do this every single day.
– On April 3 I received an email from PuntingPal with the following in it:
No T&C's apart from the usual turnover requirements. I called them on the day at 9:30am and deposited $350. The operator accepted my deposit and said it might take 30mins to go through as they were quite busy.
12:30pm that day and my deposit still hadn't come through (deposit or bonus bet) so I sent them an email. No reply. 2:30pm comes and I send them another email – this time I get a reply:
Great! I check my account and there is indeed $700 of bonus bets available. Then… all of a sudden… my free bets begin to disappear. Someone is betting all my freebets on random races without my permission!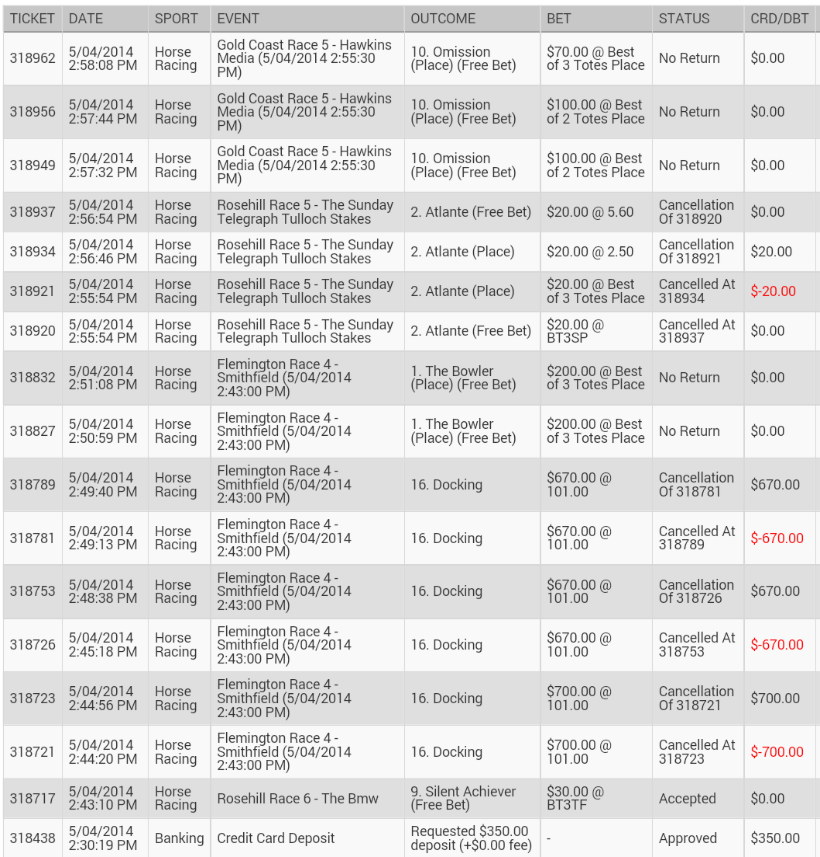 (Note: I had to use this screenshot I took from my phone on the day as they then erased these bets from my betting history record)
I emailed PuntingPal and this is the reply I got:
I won't paste the rest of the emails here, but I basically argued with them that if I was ineligible I should have been told on the phone and the T&C's of the promo does not say "eligible customers only". I told them to take this to management as I've had nothing but issues with them and have done nothing wrong except for win a little bit of money. I continued to bet with them using their "Best of 3 totes" for racing in the meantime (since I couldn't bet fixed odds any longer).
A week passes and I get no replies to several follow up emails I've sent regarding what's going on with my bonus bet. Finally, on 12/04/2014 (a week after this deposit mess started) I get a reply to one of my followup emails:
I tried to reply to this, however they have now blocked my email address. Very professional!

My advice for anyone considering signing up to PuntingPal – do it. Get the bonus, turn it over, then run like hell. Don't trust these guys with your money. They only want losing punters. I made a tiny bit of profit and my account lasted 4 weeks before being closed. A complete joke of a bookmaker who are very unprofessional.
---
So there we have it folks, just one of many unsatisfied customers of PuntingPal.com. Even though the Australian based books are just as bad at times, at least they are regulated, do not sign up and bet here unless its soley to take advantage of their sign up offers.