December 2019 Review -$2,490.00
That wraps up another year of betting. Halfway through the month, I thought it was going to be a horror Christmas period, but thanks to an amazing NFL week, we managed to end with just a small loss. Total profit for the year was $45,740.00. Not too shabby for the amount of time I devote to betting. I'll go into much more detail in the yearly review.
It was once again a wild ride for the NFL totals in December. While the NBA loss was down to my birthday and placing a lot more bets than I should have.
As always, you can replicate my portfolio and every bet I place by joining the DailyProfit service.
In total, December saw turnover of $191,590.00 for a loss of $2,490.00 at -1.30% ROI.
I placed 141 bets over the month and won 69 and lost 71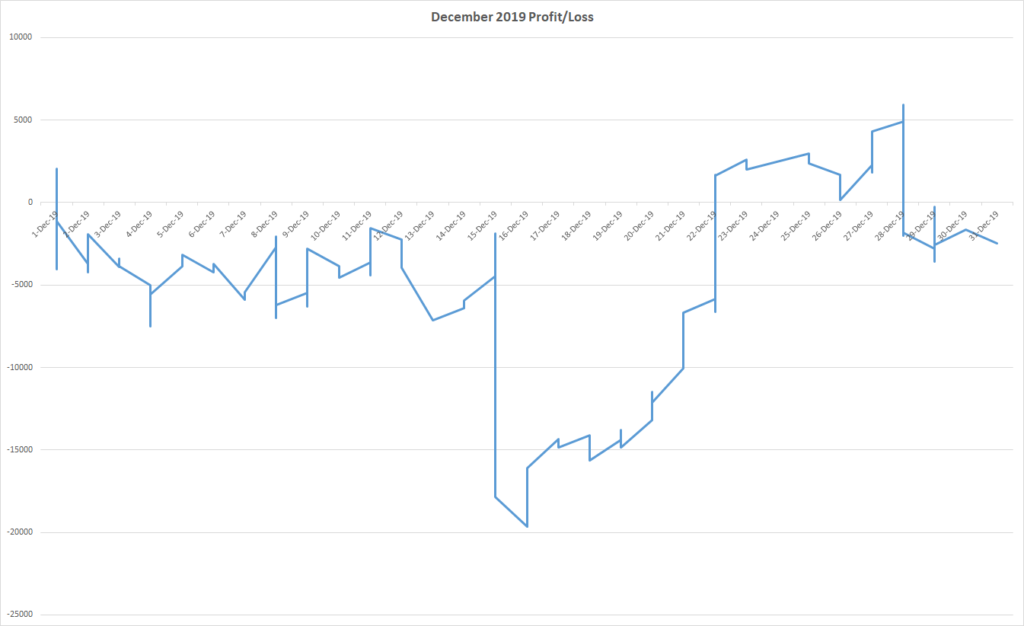 We were treading water from the get-go in December, but things really took a bad turn midway through the month with an absolutely stinking NFL week. Thankfully, from there on in it was a huge turnaround before giving a heap back on the 29th due to the NBA.
NFL
The NFL totals did make a small profit this month, but in the final few weeks of the regular season, it really was all over the shop. We bet a total of $93,920.00 for a profit of $2,160.00 at 2.3% ROI.
I placed 57 bets and won 29 of them.
I have 1 more week of betting the NFL totals in January, but the regular season profit ends with $20,350.00 at 6.13% ROI.
NBA
The first losing month for the NBA this season. I was unable to bet the NBA on my birthday and instead bet it the morning of the games. This meant I was betting a lot more games than usual as all totals are out by then. Betting so close to the games also meant more information was in and I was unlikely to beat the closing lines. This resulted in a $6,500 loss that day and turned what would have been a small winning month into a small losing one.
I placed 83 bets and won 40 of them. Turnover was $97,670.00 and the loss was $4,650.00 at 4.8% ROI.
That brings this season profit on the NBA Totals to $21,740.00 at 6.6% ROI.
You can follow along with all the same NBA, NFL and other picks by signing up to Dailyprofit ($139 AUD per month)
Total Loss for December was $2,490.00
[mc4wp_form]
Stats Year 8/9/10
Total bet amount: $4,247,650.00
Profit/Loss: $141,010.00
POT: 3.32%
Bets Placed: 2923
Won: 1508
Lost: 1387
Half Payout: 3
Refunded: 25
Winning %: 52.1%
Total profit per day: $469,590.00 / 3470 = $135.32
Total Turnover: $34,495,870.00
Total ROI: 1.36%
| Sport/Tipster | Wagered | Profit/Loss | ROI | Dec P/L |
| --- | --- | --- | --- | --- |
| AFL H2H | $446,000.00 | -$2,770.00 | -0.60% | $0.00 |
| AFL Line | $452,680.00 | -$22,670.00 | -5.0% | $0.00 |
| NRL H2H | $708,620.00 | -$14,250.00 | -2.0% | $0.00 |
| NRL Totals | $79,240.00 | $1,780.00 | 2.2% | $0.00 |
| NBA Totals | $1,502,310.00 | $128,470.00 | 8.6% | -$4,650.00 |
| NBA H2H | $208,240.00 | -$13,830.00 | -6.6% | $0.00 |
| MLB Totals | $9,250.00 | -$1,870.00 | -20.2% | $0.00 |
| NFL Totals | $583,750.00 | $47,340.00 | 8.1% | $2,160.00 |
| NFL Line | $241,280.00 | $18,220.00 | 7.6% | $0.00 |
| Mistakes | $16,280.00 | $590.00 | 3.6% | $0.00 |
| Total | $4,247,650.00 | $141,010.00 | 3.32% | -$2,490.00 |