How much did it cost to go to the World Cup
I spent an incredible 22 nights in Russia for the Fifa World Cup. While Australia could not score a goal in open play, I did see them score two goals (penalties) and saw them put up a decent effort against the eventual winners (France). Before I went, a few friends and family were a little worried about travelling to Russia, but I had no such worries. I'd been before and knew that Putin would make sure the games went by without any issues.
The three locations Australia played in are places I would never visit otherwise, but they gave me an (I'm sure massively edited) view of "normal" Russia. What I did see were some very cool places and amazing locals. Russia is nothing like what we see in mainstream media. If you ever have a reason to visit Russia, do it.
My mini claim to fame is that 11 years ago I played for Australia in a futsal world cup (held in Siberia). On that trip and this one, I managed to get a shot in front of St. Basil's Cathedral. It seems my selfie skills have improved as the pic on the right is me 11 years younger and 15 kilos lighter.
This post will break down all the costs of the trip. I added on another month of travel after the World Cup around Eastern and Central Europe, but these costs are only for the 22 nights spent in Russia.
Costs
I recently wrote an article on how I fly everywhere in Business Class (for free). For this trip, I flew economy for the first time in many years. The first leg to Dubai was painful. But the second leg we had an empty flight and I snagged an entire middle row to myself and slept the entire 6 and a bit hour leg. The reason I flew economy is that I would have felt bad leaving my travel buddies in economy while I was upstairs enjoying champagne. Also, I looked and there were no reward flights available for that flight :). We had a heap of internal flights as well, and some of the planes (especially the one to Sochi) were horrendous.
Flights and getting around
| From | To | Cost |
| --- | --- | --- |
| Sydney | Saint Petersburg | $945.14 |
| Saint Petersburg | Moscow | $102.34 |
| Moscow | Kazan | $123.79 |
| Kazan | Samara (via Moscow) | $256.14 |
| Samara | Sochi | $258.84 |
| Sochi | Moscow | $276.40 |
| Prague | Sydney | $945.14 |
| Total | | $2,907.79 |
We walked a lot. I averaged at least 18,000 steps per day. The rest of the time we caught ubers or taxis and the prices were very cheap.
Hotels and Airbnb
We used both hotels and airbnb's during our stay. We wanted to be as close to the action as possible. We also booked pretty late so the prices were very high. In Samara, we stayed in a 5-star hotel, and in Sochi, I would say it was a half star hotel. Apart from Sochi, the places were all great.
| Location | Cost per night | # of nights | Total cost | People | Cost per person |
| --- | --- | --- | --- | --- | --- |
| Saint Petersburg | $143.89 | 4 | $575.57 | 3 | $191.86 |
| Moscow | $135.00 | 3 | $405.00 | 3 | $135.00 |
| Kazan | $430.30 | 5 | $2,151.50 | 4 | $537.87 |
| Samara | $640.60 | 5 | $3,203.00 | 4 | $800.75 |
| Sochi | $249.50 | 4 | $998.00 | 4 | $249.50 |
| Moscow | $102.00 | 1 | $102.00 | 3 | $34.00 |
| Total | | 22 | $7,435.07 | | $1,948.98 |
As with any major event, people know they can put up their prices and people will pay for them. It's just something you need to deal with if you are going to an event like this.
I had a look on airbnb and the same place we paid $430 a night for is now $35 per night. I'd guess that most places added a 50 – 100% world cup tax onto their rooms.
World Cup Tickets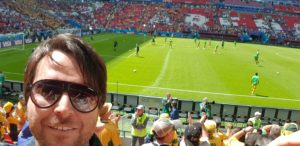 We followed Australia and each group game cost $210 USD which was $267 AUD. In total, we paid $801 AUD for the 3 games. We bought category A tickets and our location at each stadium was amazing.
We talked to locals and they either received free tickets or paid no more than $20 for each game.
Food and Drinks
Food pricing could range from super cheap to normal Aussie food prices.
The meal on the left was a Gold leaf, Caviar and black truffle burger at a fancy burger joint in an expensive Moscow area (Arbat). It cost around $22 AUD. It also tasted disgusting.
We ended up finding cafeteria type places that had decent food at very cheap prices.
Most of the main touristy streets had expensive (for Russia) food. But if you went one street back, you could find really good cheap eats.
This meal on the right which was called the businessman's lunch special included a drink, soup, salad and main and was $3 AUD.
Alcohol was very cheap (especially Vodka). One night we bought at least 4 bottles of Vodka, a heap of beers, cocktails and other drinks and the bill came to about $150 AUD.
A few times alcohol would arrive at our table from locals, we would usually send an entire bottle of Vodka back to their tables. This was an amazing way to get to know the locals as they would then insist you come drink and eat with them. At one bar before the Australia v Denmark game, a table of Denmark fans brought all the Aussies (at least 20) a beer and offered their condolences on the thrashing that their team was about to inflict. That game ended 1-1.
I did not track my spend on each cateogry but do know how much money I took out of my bank account.
So for all the taxis, ubers, food, drinks, souvenirs and other random things, I spent $1,370 AUD
Total Cost
| | Costs | Cost per night (22) |
| --- | --- | --- |
| Flights | $2,907.79 | $132.17 |
| Accomodation | $1,948.98 | $88.59 |
| Wold Cup tickets | $801.00 | $36.41 |
| Food, Drinks, Uber, Misc | $1,370.00 | $62.27 |
| Total | $7,027.77 | $319.44 |
The entire trip cost $7,027.77 AUD. With more planning and if we wanted to take trains instead of planes, I could have easily got that under $5,000.
I'm sure backpackers could have done the same trip for $2,500 and those on tours could have spent up to $20,000. Everyone has different tastes when they travel and some like to pay whatever it costs and not think about anything at all. Others are on a strict budget and might need to take a 24-hour train to get between each venue.
It was an amazing trip and a World Cup is something you will never forget. I was also in Croatia when they beat England and lost to France in the final and that added so much to the experience. I'm fortunate to be able to travel to all these amazing sporting events all over the world. I can't wait for the next one.
In 2020 I hope to live out most sports fans dream and take the entire year to travel and see every major sporting event. I'll talk more about it over the next year, but I will be taking my family of 3 and setting a 100k budget. Based on these costs and the fact I won't need to pay for flights, we should be able to do it with plenty of cash left over.