September 2019 Review +$15,710.00
Last month I said, "September also sees the NFL season start and I'm hoping for the customary strong start to the season." Boy did it deliver. An amazing start to the NFL season and a winning month for the limited amount of NRL and AFL bets means September gave me a very healthy profit. With just 1 NRL game left in October and the NBA starting at the end of the month, the transition to the US sports couldn't come at a better time. It's amazing how over the years the American sports are now the stronger performing models.
As always, you can replicate my portfolio and every bet I place by joining the DailyProfit service. Prices will increase from mid-October, so lock in the current prices now.
In total, September saw turnover of $101,660.00 for a profit of $15,710.00 at 15.45% ROI.
I placed 51 bets over the month and won 25 and lost 26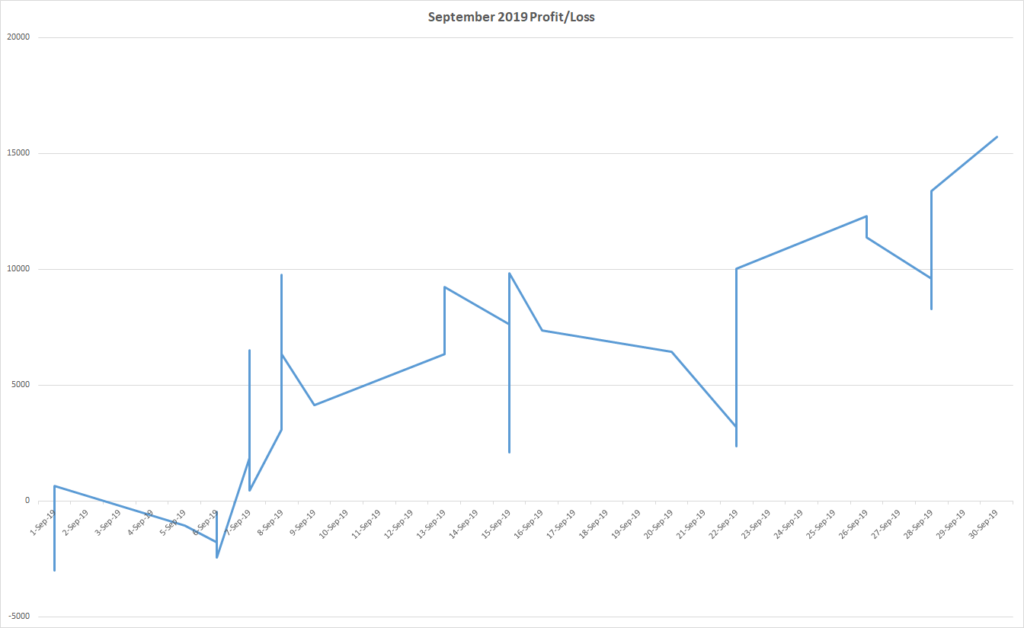 Now that's the sort of graph I'd like to see all the time. But we all know that isn't possible. This last quarter of the year has historically been the time I make all my profits, so I'm hoping for that to continue for my 10th year of betting.
NRL
I placed 5 bets and won 3 of them this month. Turnover was $18,810.00 and the profit was $3,540.00 at 18.8% ROI. With 1 game left in the season, that takes the season total to a $8,330.00 loss at -2.8% ROI
AFL
I placed 7 bets and won 3 of them. Turnover was $10,590.00 and the profit was $1,920.00 at 18.1% ROI. The AFL season ends with a massive 😂 profit of $130.00 at 0.1% ROI. I'll do a full recap of both AFL and NRL models this month.
NFL
What an amazing start for the NFL model. I posted all the plays for free first on Twitter (follow me here) and then to the Daily25 mailing list (sign up below). I'll be sending 1 final week to the mailing list for free and that will include both Line and Totals bets for week 5.
I placed 39 bets and won 19 of them. Turnover was $72,260.00 and the profit was $10,250.00 at 14.2% ROI. I could not be happier with that return.
You can follow along with all the same NBA, NRL and AFL picks by signing up to Dailyprofit ($119 AUD per month)
Total Profit for September was $15,710.00
Stats Year 8/9/10
Total bet amount: $3,657,800.00
Profit/Loss: $109,170.00
POT: 2.98%
Bets Placed: 2526
Won: 1307
Lost: 1194
Half Payout: 3
Refunded: 22
Winning %: 52.3%
Total profit per day: $437,750.00 / 3378 = $129.58
Total Turnover: $33,906,020.00
Total ROI: 1.29%
| Sport/Tipster | Wagered | Profit/Loss | ROI | Sep P/L |
| --- | --- | --- | --- | --- |
| AFL H2H | $446,000.00 | -$2,770.00 | -0.60% | $1,920.00 |
| AFL Line | $452,680.00 | -$22,670.00 | -5.0% | $0.00 |
| NRL H2H | $708,620.00 | -$14,250.00 | -2.0% | $3,540.00 |
| NRL Totals | $79,240.00 | $1,780.00 | 2.2% | $0.00 |
| NBA Totals | $1,172,020.00 | $106,730.00 | 9.1% | $0.00 |
| NBA H2H | $208,240.00 | -$13,830.00 | -6.6% | $0.00 |
| MLB Totals | $9,250.00 | -$1,870.00 | -20.2% | $0.00 |
| NFL Totals | $350,140.00 | $42,140.00 | 12.0% | $0.00 |
| NFL Line | $215,330.00 | $13,320.00 | 6.2% | $10,250.00 |
| Mistakes | $16,280.00 | $590.00 | 3.6% | $0.00 |
| Total | $3,657,800.00 | $109,170.00 | 2.98% | $15.710.00 |