September 30th – October 6th +$18,545.45
October starts with a very nice win. My makeshift Soccer combo system had another great week, but I will talk more about that below. We saw the end of the AFL and NRL seasons. The NRL grand final was damn exciting, and I'm sure 99.9% of the aussie population wanted that sideline kick to go over. Happy to be on both winning teams this week. As per usual, the AFL had another stellar season and the NRL made a small profit. I will have season reviews up this week. The MLB regular season is now over and it was another case of a strong first half of the season and an average second half. But some good profit was made. NHL, NBA and NFL are now the next lot of US sports to get my attention. I'll miss the profits the AFL model consistently gave and this next 6 month period feels like luck will play a major role in the results.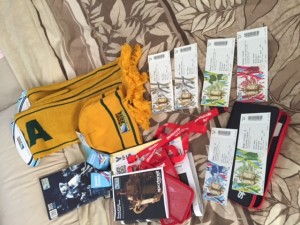 My Rugby Union package came in the mail the other day. I have watched a total of 0 games in this world cup and plan to keep it that way until I touch down in London later this month. Although it was pleasing to hear we dumped the poms out of the competition early on. You're only as good as you last game and the poms are absolute rubbish. The Aussies are now second favs and I would love to see an Australia v New Zealand final.
A final update on the Madbookie promotion I ran over the last 2 weeks. The final tally was just over 350 of you who took up the sign up offer and combined, you guys took $80,000 from them. Nice work. I had a total of 1 complaint from a reader when his bet wasn't taken, but that turned out to be a software issue and he was given an extra free bet for bringing it up. The ongoing offer will now drop to a 100% bonus to $500.
The "Ultimate Tipster Giveaway" had an initial flurry of activity and has died down now. With just over a week to go, you have an amazing chance to win $30,000 worth of Tipster services and a $1,000 bonus bet at Madbookie. If you have already registered for the prize, head back to the website and use the links to share on social media to get even more entries.
Onto the weekly results. Just the single bet in each final and both won. AFL produced $3,900 profit and NRL made $1,000. The MLB totals made $450. The NHL season starts in 2 days and the NBA in 22 days. I will also start betting the NFL from next week. These have all traditionally started very well, so I can only hope that trend continues.
Dailyprofit has lost a lot of the members who were only following the aussie sports. You will notice the Sportpunter service is currently not accepting new members. I am tweaking the pricing (which means they are getting more expensive) and allowing members the ability to follow individual sports if they like. I will also review the aussie sports on the Dailyprofit website this week.

Onto the Soccer combo system. This week I completed my line up by purchasing the TFA and Fink tank systems. So now I have all 4 models to work with. All of these models are pretty reliant on away teams winning, and as long as that continues to happen, the profits will flow. This week produced $13,600 profit and that included midweek winners. After 35 bets this model looks like the greatest thing ever with a 68.2% ROI to closing odds. But it's pure luck that I started when I did, and over the season we will have massively winning weeks and massively losing ones. There will be fewer bets but larger stakes and the hope is to make at least 5% ROI with these bets. If the past analysis is anything to go off, that should be easily achievable. Off course we could finally have one of those seasons where blindly backing all the away teams results in profit, and if that is the case, we could easily be looking at a 15% ROI and a season that would make up for the past 5 years of treading water. It's great to have a $33,000 buffer and I hope I can add a lot more profit this season.
For the past 2 weeks I have asked for massive profits and they have been given to me, so lets try and make it a 3-peat. Please o please let the Soccer Combo system double it's profits and for the NHL to get off to a cracking start.
Total Profit for the week was $18,545.45
Stats Year 6
Total bet amount: $1,234,523.00
Profit/Loss: $32,775.59
POT: 2.65%
Bets Placed: 1033
Won: 364
Lost: 473
Half Payout: 18
Refunded: 178
Winning %: 43.5%
Total profit per day: $418,833.73 / 1924 = $217.68
Total Turnover: $23,120,555.30
Total ROI: 1.81%
AFL H2H $82,448.00 $(4,180.77) -5.1%
week profit/loss: 1324.70
AFL Line $284,561.00 $16,422.07 5.8%
week profit/loss: 2614.64
NRL $76,871.00 $(665.31) -0.9%
week profit/loss: 1000
MLB Totals $481,453.00 $(7,238.90) -1.5%
week profit/loss: 452.25
Soccer combo $49,000.00 $33,430.00 68.2%
week profit/loss: 13670
Jason Kelly $5,290.00 $(5,215.00) -98.6%
week profit/loss: 0
Betswot $2,925.00 $(236.80) -8.1%
week profit/loss: 0
Odds Pushed Out $15,000.00 $773.00 5.2%
week profit/loss: 45
Personal $231,818.00 $(4,608.56) -2.0%
week profit/loss: -561.14
Mistake $2,500.00 $2,563.25 102.5%
week profit/loss: 0