April 2017 Monthly Review +$58,790.00
When it rains, it pours. Last month the floodgates finally opened and they haven't stopped. Back to back amazing months for the AFL and NRL models have seen a huge chunk of the years' losses disappear. Just two months ago, in my wildest dreams did I think I would be in this position. I can't really get too excited, as I am still sitting on a loss for the year, but from where I was just 60 days ago to now is nothing short of phenomenal.
My only betting was on the NRL and AFL models, but there were a fair few big bets for both sports. Each weekend saw more profit added at a rate of over $10,000 each week. My concern over the Sportpunter models is slowly disappearing but as always, I will stick to my thoughts at the start of the season and keep the bank and stakes the same.
I remember telling a mate that if I finished the year with a loss less than $100k I would be happy. If I had kept my AFL bank the same as last season, I would be in profit for the year right now. This is a perfect example of not knowing when a good or bad run will happen. It seems they always happen when least expected.
In total, April saw turnover of $270,580.00 for a profit of $58,790.00 at 21.73% ROI.
I placed 107 bets over the month and won 59 and lost 48.
NRL
The last week of the month saw the NRL give some profits back, but it was still another great month. I placed 31 head to head bets and won 19 of them for a $12,870.00 profit at 16.4% ROI. Total betting was very poor, I placed 14 bets and only won 4 of them for a $4,240.00 loss at a -50% ROI. The seasons' H2H results now stand at $33,870.00 profit at a crazy 25.1% ROI after 57 bets.
AFL
I thought last months AFL results were amazing (and they were), but this month they were even better. It really is the exact opposite of last year where nothing could win.
Head to Head betting saw turnover of $58,790.00 and a profit of $12,270.00. If North Melbourne knew how to hold onto a lead that profit would have been doubled. I won 15 of the 26 H2H bets and that resulted in a 20.9% ROI.
Line betting was even better with $124,690.00 turned over for a $37,890.00 profit at 30.4% ROI. There were 36 bets and I won 21 of them.
To get the exact same plays as I am betting on, you can join the Dailyprofit service here.
Note: After a great run like this, I notice a heap of new customers at Dailyprofit. While I believe the models will continue to produce a profit for the rest of the season, there is no way it can continue to win at over 25% ROI. But if you understand that and are joining for the long run, you will do just fine.
The last two months have steadied a very leaky ship. The yearly performance graph is starting to look similar to the grin I am wearing on my face. But I know from experience (just look at the first 8 months of that graph) that there are never any gurantees when it comes to betting. I won't even try and speculate where I will end up at the end of this 7th year of betting. I'll know exactly where it ends up in another 60 days.
I hope your betting has performed as well as mine in the last few months and not as poorly as mine in the last year and a bit.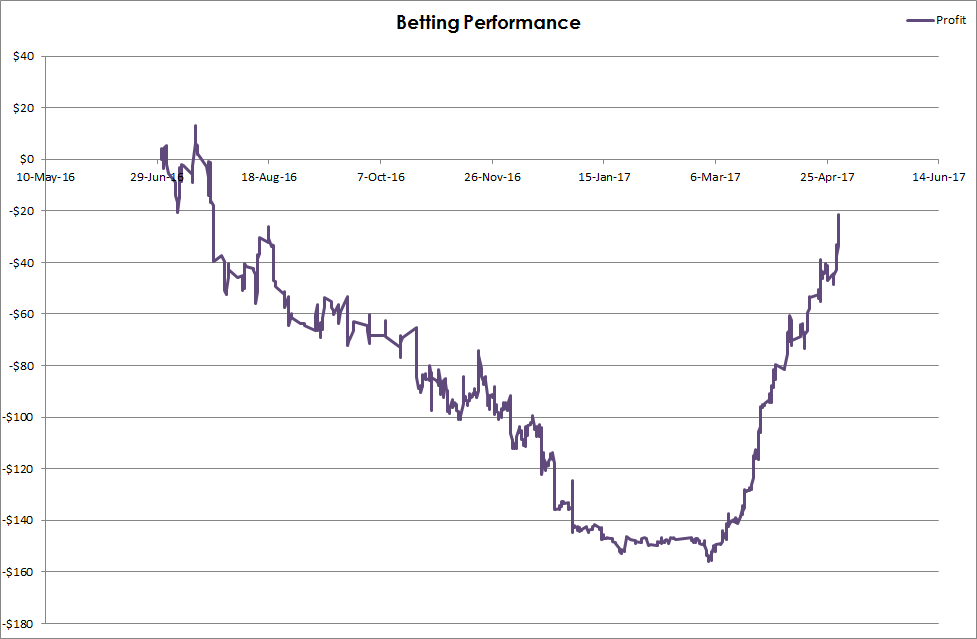 Total Profit for the month was $58,790.00
[mc4wp_form]
Stats Year 7
Total bet amount: $1,869,640.00
Profit/Loss: -$28,790.00
POT: -1.54%
Bets Placed: 1085
Won: 510
Lost: 563
Half Payout: 1
Refunded: 11
Winning %: 47.5%
Total profit per day: $317,630.00 / 2495 = $127.30
Total Turnover: $29,896,470.00
Total ROI: 1.06%
| Sport/Tipster | Wagered | Profit/Loss | ROI | Apr P/L |
| --- | --- | --- | --- | --- |
| NFL Line | $290,950.00 | -$17,540.00 | -6.0% | $0 |
| NFL Totals | $281,460.00 | -$45,050.00 | -16.0% | $0 |
| NBA Totals | $203,020.00 | $22,900.00 | 11.3% | $0 |
| NBA H2H | $232,190.00 | -$3,400.00 | -1.5% | $0 |
| AFL H2H | $189,950.00 | -$19,990.00 | -10.5% | $12,270.00 |
| AFL Line | $418,350.00 | $2,000.00 | 0.5% | $37,890.00 |
| NRL H2H | $233,790.00 | $41,270.00 | 17.7% | $12,870.00 |
| NRL Totals | $15,570.00 | -$4,620.00 | -29.7% | -$4,240.00 |
| Super Rugby | $1,710.00 | -$1,710.00 | -100.0% | $0 |
| Mistakes | $2,650.00 | -$2,650.00 | -100.0% | $0 |
| Total | $1,869,640.00 | -$28,790.00 | -1.54% | $58,790.00 |