August 2017 Monthly Review -$20,730.00
A second poor month on the trot means my year 8 graph is looking horrendous just 2 months in. August saw the end of the AFL regular season and the second last round of the NRL season. That means that September will be my lowest turnover month as I will only be betting on the finals for both leagues. August was terrible from start to finish, just your typical month where each weekend added more losses. Things could have been a lot worse if the models favourite team (St. George) didn't beat Penrith. With only 79 bets over the month, a few games, either way, can be the difference between a profit or loss. Not a fun time, but I do have to keep reminding myself that the prior 4 months before year 8 started returned over $131,000.00 profit. Just like the last 100 times, things will eventually revert to the mean.
In total, August saw turnover of $184,400.00 for a loss of $20,730.00 at –11.24% ROI.
I placed 79 bets over the month and won 34 and lost 45.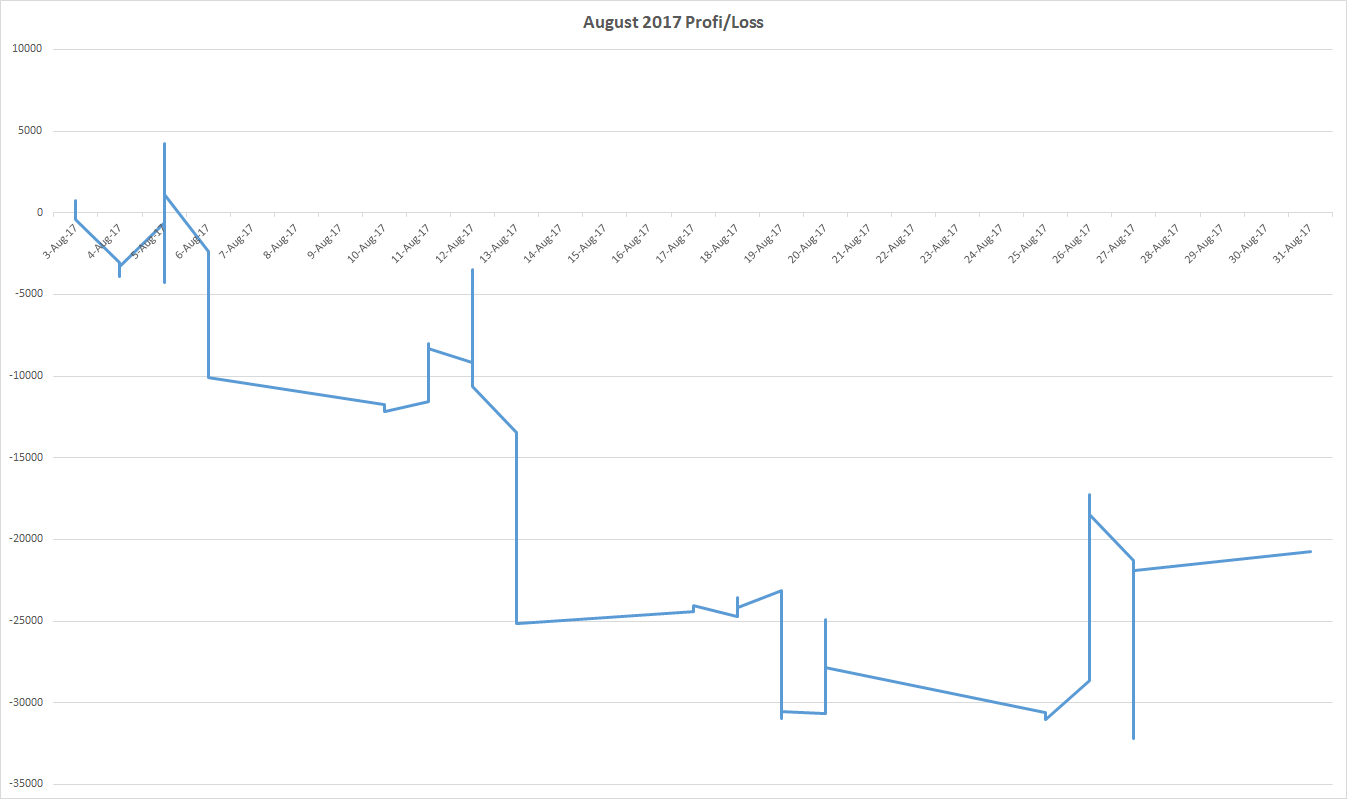 NRL
The NRL H2H did well in August, but as mentioned above, a big part of that profit came from one game. A $9,420.00 win on the Dragons over Penrith. I placed 23 bets and won 13 of them for a total profit of $11,990.00 at a 16.3% ROI. The totals had a shocker, winning just 7 of 20 bets and losing $7,380.00 at -41.7%.
AFL
The AFL had a real stinker as we came to the end of the regular season. I've asked Jonno to have a deeper look into the final rounds as I think (I could be wrong) that profits drop off massively this time every year. The H2H bets lost $7,310.00 at -24.5% and the Line bets lost $18,030.00 at -28.5%.
We are coming into a very slow period for my betting. While the NFL starts in September, the model does not suggest bets until a few rounds in. We also are only left with 1 final NRL regular season round before both the AFL and NRL are into their playoffs. The NBA does not start until mid-October. While many people would be hoping to erase a big loss over the last few months as quickly as possible, with the number of bets being placed, that is just not possible. I'm comfortable sitting on a loss and slowly clawing my way back into profit, but I know many punters struggle with this.
It will also be an interesting off-season for the Australian betting market. By the time the 2018 AFL and NRL seasons rolls around, the landscape will be very different. Pinnacle will have pulled out of the Australian market and the main question will be if we will be able to get any sort of bet on. A pivotal time for the gambling industry in this country.
Total Loss for the month was $20,730.00
Stats Year 8
Total bet amount: $416,560.00
Profit/Loss: -$44,590.00
POT: -10.70%
Bets Placed: 185
Won: 80
Lost: 103
Half Payout: 2
Refunded: 0
Winning %: 43.7%
Total profit per day: $283,990.00 / 2618 = $108.47
Total Turnover: $30,664,780.00
Total ROI: 0.926%
| Sport/Tipster | Wagered | Profit/Loss | ROI | Aug P/L |
| --- | --- | --- | --- | --- |
| AFL H2H | $79,900.00 | -$7,470.00 | -9.3% | -$7,310.00 |
| AFL Line | $165,820.00 | -$23,280.00 | -14.0% | -$18,030.00 |
| NRL H2H | $139,230.00 | -$7,370.00 | -5.3% | $11,990.00 |
| NRL Totals | $31,610.00 | -$6,470.00 | -20.5% | -$7,380.00 |
| Total | $416,560.00 | -$44,590.00 | -10.70% | -$20,730.00 |