How bookies win by telling you they lost: & how Laurie Oakes unwittingly gave Sportsbet millions in free advertising
Getting one up over the bookies is a story that is retold over and over again in the media. The PR managers at bookmaking firms are endlessly pitching stories to media outlets to get their brand names some free advertising. A few years ago they stumbled on the perfect formula.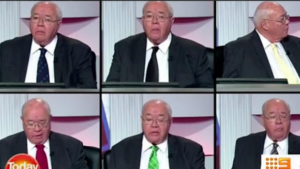 Step 1: Take a major public event (election, celebrity event, baby's name)
Step 2: create a novelty betting market for it (what colour tie will they wear, will James packer get married in 2016, name of next royal baby)
Step 3: If there is a shock result tell the media that you were taken to the cleaners. (all 6 colours worn, brexit, a divorce)
Step 4: rinse and repeat
Sportsbet Novelty markets
I've been in Europe for the last 8 weeks so missed all the political campaigning, but from what I have seen, it must have been very dull, as this story has been the biggest one of the entire election. A guy changing ties during the vote count… are you serious.
In a nutshell, Sportsbet put up a novelty market on what colour tie Laurie Oakes would wear during the vote count. This market was brought to his attention during the Today show and he decided to "one up" the bookie. He wore all 6 options during the broadcast.
Explaining why, he said "All I can tell you is that I am the punters' friend. Sportsbet ran a book on what colour tie I'd wear tonight, and the six choices were gold, red, blue, black, green and any other colour," Oakes said on Nine.
This story was picked up by every media organisation and continually talked about for the last few days. While Laurie may be the punters friend (to the tune of 57 punters), he is very much a friend of Sportsbet who he has unwittingly given millions in free advertising.
The Media's reaction
This post is not an attack on Sportsbet, the marketing managers job is to get as many people to hear about his company. Whoever came up with this novelty bet and made Laurie hear about it will be getting a very sizable bonus at the end of the year. They will run over 100 of these markets each year and are ecstatic if one or two get media exposure.
But the way the media reported it, shows not only how stupid they are, but also how much they like to keep on the good side of the bookies. Sportsbooks spend an enormous amount advertising on their channels (TV, radio, print and Internet) and these media companies are only too happy to run puff pieces. Let's look at just a small sample of the headlines.
Federal Election 2016: Laurie Oakes ties up bookies with multicoloured offering – Sydney Morning Herald
Laurie Oakes outplays bookie, makes everyone a winner on election night – 9news.com.au
Laurie Oakes fools bookies with tie swaps – Thenewdaily
'We've been gamed by the best': Veteran political reporter Laurie Oakes outplays bookmaker by wearing SIX different ties on election night – forcing them to pay out 57 punters – Dailymail Australia
TV journalist expertly trolls betting agency by constantly changing his tie – Mashable
Bookie stung by Laurie Oakes in election tie result – Punters.com.au
What was this "loss" worth to Sportsbet?
By the sounds of those headlines, Sportsbet has been taken to the cleaners. They were "outplayed", "fooled", "gamed, "trolled", and "stung" by Laurie. Let's actually look at how badly burnt Sportsbet were.
These markets usually have a maximum bet of $20 and barely anyone bets on them. In total there were 57 people who placed bets. These bets totaled maybe $1,000. With every bet winning, Sportsbet had to pay out $3,010.
They are currently down a massive $3,010. Let's look at what they received in return for this $3,010.
Advertising costs
It's not cheap to put an ad on television, especially when you have a certain demographic in mind. If you watch any sport you will see bookmakers ads everywhere. These ads usually go for between $250 – $2000 per 30 second slot. On average a bookmaker will pay about $1,000.
During primetime and also during big events, prices increase. Channel 7 ad prices for primetime slots are from $11,700 to $37,800 for 30 seconds. Channel 9 ad rates for primetime 30 second slots are from $7,000 to $25,000. SBS is a bit cheaper at $4,680.
For huge events like last years AFL grand final, a 30 second spot cost a whopping $135,000. Last years NRL grandfinal was a steal at just $100,000 for 30 seconds of airtime.
Remember, these prices are for ads, when people are paying the least attention.
Doing the maths
There has been hours of screen time devoted to this novelty bet. All during prime time coverage and all during the actual show and talked about by the hosts. To get a host to talk about a brand during a show would be a price no company could afford. Add to that the message they are actually sending, and Sportsbet would be dancing down the street naked without a care in the world right now.
The message these hosts are repeating over and over again is that bookies are beatable and people can win money from them. If you read this blog you know that is complete and utter crap and Australian corporate bookmaker will close or limit any account that makes a profit. But for the millions watching these shows, it gets them thinking that they should sign up and start betting.
Let's be conservative and say in total there was 2 hours of talk about this issue across all television (there was much much more). We will also take the average of channel 9's primetime ad rates ($16,000).
2 hours split into 30 second ad spots is 240 ads.
240 * $16,000 = $3,840,000.00
Yes, that is $3.84 million in free advertising (and that is being very conservative)
But it doesn't end there. That's just television. We also need to add in the thousands of articles written, the talk on radio and also the social media shares. I couldn't even start to work out how much this was worth to sportsbet. But it is slightly more than the $3,010 they paid out on the bet.
It will keep happening
The media love these types of stories and they will continue to run them. There are always surprise results in sport and life. When Leicester won the title, everyone knew that they were 5,000 to 1 chances to do so. Every bookmaker also told the world that they "lost" 6 or 7 figures when Leicester won. A 6 figure loss meant someone placed a $20 bet and a 7 figure loss meant a $200 bet.
What the bookmakers leave out are the millions bet on the favorites and all the other teams that did not win. Bookies love when a long shot wins, it is when they not only make the most profit, but also get to tell the story of how they lost (when they really won).
I understand the irony in this post, that I am also talking about the bet and giving even more free advertising. I wish this post never had to be written and I hope the next celebrity (and I use that term lightly) who hears about a bet concerning them simply does nothing at all.
Laurie Oakes thought he was "gaming" sportsbet, instead he was the one that got gamed.