Japan Travel: Thoughts, costs, food and culture
Wow, Japan did not disappoint. Last month I spent 3 weeks in Osaka, Kyoto and Tokyo and I loved every minute of it.
This post will talk about what I did, how much it cost and my thoughts on the country.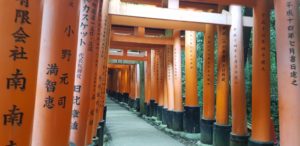 I've been meaning to get to Japan for years, it's culture has always fascinated me and I've been told by so many people what an amazing destination it is. I also felt like it was time for another family trip (after spending a few months in Europe with friends). Once we started planning we decided to see if anyone wanted to join us on the trip, the timing was off for a few friends and family, but one mate had just got his redundency package and the times lined up perfectly. The first 14 days was non stop with our two families (7 people) giving equal time to Osaka, Kyoto and Tokyo.
This trip was not a "holiday", it was travel. There are two very distinct types of travelling. A holiday is when you go to a place, unpack and spend your days doing nothing (in the pool, reading, so on). Travel, on the other hand, is constant movement and seeing something new every day. I can deal with a Holiday for about a week before I go crazy. I could travel forever. A family trip is also very very different to a trip with mates. I love both types of trips.
What we did
I'll spare you most of the itinerary, as listening to someone else's trip can be pretty boring. I'll just list off the memorable moments (In the order we did them)
Used a Japanese toilet (this first one could actually be the highlight of the entire trip)
Bullet trains
Saw a Japanese baseball game (and being the only westerners at the game, we were on the big screen all game)
Osaka Aquarium
Universal Studios
Wearing Kimonos in Kyoto
Cycling around Kyoto
Inari Shrine
Bamboo forest
Disneyland
Pokemon
Kidzania
Tokyo Tower
Sushi
Ueno Zoo
So much more
There are so many memorable moments on this trip.
How much did we spend?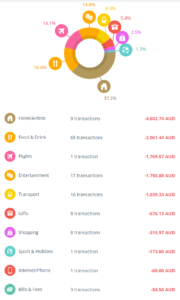 By now you should know I'm a pretty frugal (*cough* tight arse) guy. But in my older age, I also want a bit of comfort. I waited for ages for a flight deal that flew directly to Japan, luckily Qantas had a sale on a little over a month before we were leaving.
All of these figures are for 2 adults and a 4-year-old. Apart from train travel (which was free), 4-year-olds cost just as much as an adult (even more if you see how my kid eats).
I used the Spendee app to track my spending. I'm sure I missed a few items, but this will give a very close indication of how much we spent.
Also, note that we shared airbnbs with our friends for 2 weeks which makes those costs a little cheaper.
We stayed in 2 hotels (1 night each) and the rest of the time it was airbnbs. All the places were pretty small but still big enough. When you are out all day, all you need is a nice shower and bed to come home too. A few of our places we slept the traditional Japanese way (on the floor) and our home in Osaka had a samurai costume in our bedroom. Accommodation worked out to be $230 per night for our family.
Food was the second largest expense. We rarely ate breakfast, we would usually get a coffee from a vending machine and stop off at a 7 eleven to get my son something. We ate a lot of food and had lunch, dinner and coffees out every single day. This average out to $103 a day ($34 per person).
The flights were $733 return to Tokyo with Qantas and I had a $450 travel credit (from my credit card hacking). I could have used points to fly business, but we are saving our points for something extra special in 2020 and a 9-hour flight is right on the limit of what I can do in economy.
Transport was the only other real expense. We bought the 7-day rail pass as we were moving between Tokyo, Osaka and Kyoto. These were $360 for adults and kids under 6 are free as long as they sit on a lap. The rest of the cost was from using the subway in Tokyo and 1 cab ride. The subway system in Tokyo is amazing.
We spent close to $700 on gifts for family and friends. There is a heap of unique Japanese type gifts. They do over 100 varieties of Kit Kat and we had to bring a heap of them home (wasabi, sake, green tea, and other weird flavours). We also bought a lot of traditional gifts.
When I travel I want to always have internet access, so I purchased a sim card in Australia that gave me 30 days use and 8 gig of data. It worked perfectly.
In total, we spent $12,503.62 AUD on our 3 weeks in Japan. That works out to $625 per day or $208 per person.
I've heard people say how expensive Japan is, and we found it to be on par with Australian prices, but in saying that, Australia is becoming one of the most expensive countries in the world to live. I would say it is cheaper to live in Japan then it is to live in Australia.
My thoughts on Japan
I could have stayed another few months (and will be back for the Olympics). Japan is an incredible country with amazing people and a culture that has an amazing respect for its past. Like any country, if you scratch beneath the surface you can see some good and bad things, and the juxtaposition between what I saw and felt was very different to what you see when you do some research. Japan's well-known xenophobia (98.5% of the population are Japanese) and incredibly high suicide rate (the leading cause of death in those under 30 and the leading cause for men between 22-40) is not something I came across while there. I saw the most courteous people with a huge tolerance for westerners. But I also was on the subway during busy times and could imagine how soul crushing the work and travel to and from home/work could be. I'd love to meet up with some locals and go for some sake the next time I am there to get a better understanding of what it's like to be Japanese.
From my short time there, the Japanese showed me that as long as you respect other people, and as long as you are not disrupting anyone else, you can pretty much do whatever you like. It's a country I have to head back to and discover much more about.