July 2019 Review -$26,010.00
After an amazing 6 months of punting in 2019, the first month of my 10th year of betting ended with a massive loss. There were once again very few bets (32), but because of so few bets, the variance is much higher. This was one of those months where every single 50/50 chance lost. All the close games ended up losing. It's just part of betting and I've found this sort of "luck" seems to cluster instead of being spread out over the season.
Let's have a quick look at some of the 50/50 games that I lost this month.
$3,300 West Coast ($1.38) over Collingwood (lost by 1)
$5,000 Manly ($2.40) over Souths (lost by 1)
$2,500 New Zealand ($2.40) over Brisbane (draw)
$5,500 Sydney ($1.32) over Carlton (lost by 7)
$2,000 North Melbourne ($1.96) over Essendon (lost by 5)
$2,000 North Queensland ($2.68) over Cronulla (lost by 2)
$2,200 St George Illawarra ($3.25) over Souths (lost by 4)
$1,200 New Zealand ($2.40) over Parramatta (lost by 2)
So that's $23,700 worth of bets that lost by under a goal or try. A few of those games the team was up with only a few seconds left in the game.
It's just the way things go when betting and I'm sure I have months in the past were all these bets have won by a few points.
As always, you can replicate my portfolio (not that you would want to based on this month) and every bet I place by joining the DailyProfit service.
In total, July saw turnover of $76,620.00 for a loss of $26,010.00 at -33.95% ROI.
I placed 32 bets over the month and won 10, lost 21 and had 1 Half Payout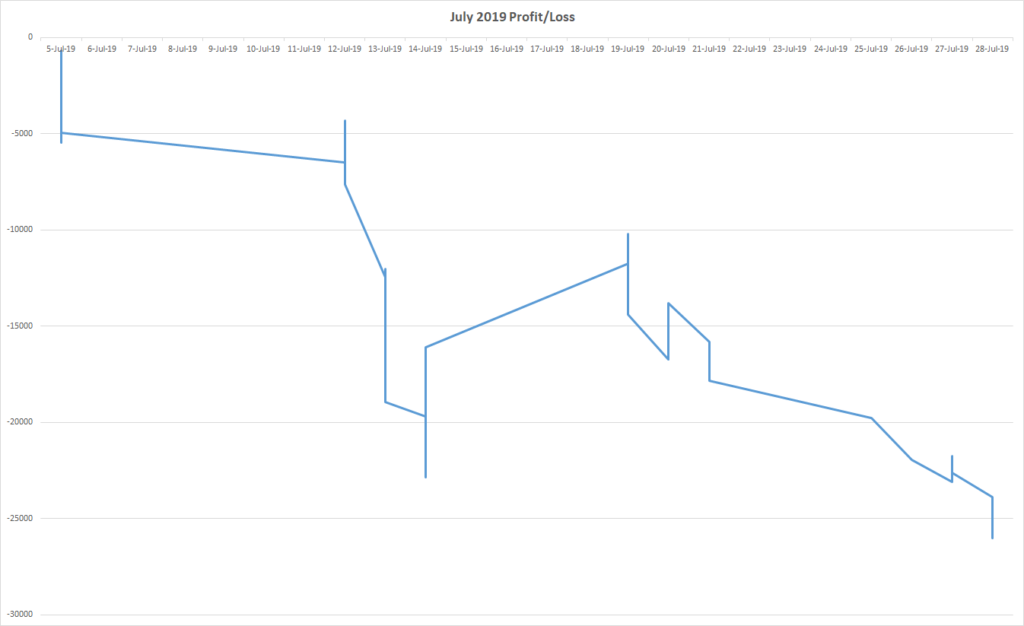 Just loss after loss all month. It was carnage.
NRL
A surprisingly small loss for the NRL this month given the 5 losing games that resulted in a $12,900.00 loss. I placed 14 bets and won just 5 of them. Turnover was $36,900.00 for a loss of $2,870.00 at -7.8% ROI. One kind bounce of the ball and it would have been a winning month. This seasons profit is now $4,160.00 at 1.8% ROI.
AFL
It was the AFL that resulted in the big loss. We won just 5 of 18 bets and lost a lot on short priced favs. Total turnover was $39,720.00 and the loss was $23,140.00 at a -58.3% ROI. That brings the seasons loss to $5,340.00 at a –3.1% ROI
Not a great start to my 10th year of betting. I'm hoping for a quick rebound and am looking forward to the upcoming NFL season.
You can follow along with all the same NBA, NRL and AFL picks by signing up to Dailyprofit ($119 AUD per month)
Total Loss for July was $26,010.00
Stats Year 8/9
Total bet amount: $3,478,190.00
Profit/Loss: $105,940.00
POT: 3.05%
Bets Placed: 2441
Won: 1266
Lost: 1150
Half Payout: 2
Refunded: 22
Winning %: 52.4%
Total profit per day: $434,520.00 / 3317 = $130.99
Total Turnover: $33,726,410.00
Total ROI: 1.28%
| Sport/Tipster | Wagered | Profit/Loss | ROI | July P/L |
| --- | --- | --- | --- | --- |
| AFL H2H | $397,610.00 | -$8,240.00 | -2.1% | -$23,140.00 |
| AFL Line | $452,680.00 | -$22,670.00 | -5.0% | $0.00 |
| NRL H2H | $649,660.00 | -$1,760.00 | -0.3% | -$2,870.00 |
| NRL Totals | $79,240.00 | $1,780.00 | 2.2% | $0.00 |
| NBA Totals | $1,172,020.00 | $106,730.00 | 9.1% | $0.00 |
| NBA H2H | $208,240.00 | -$13,830.00 | -6.6% | $0.00 |
| MLB Totals | $9,250.00 | -$1,870.00 | -20.2% | $0.00 |
| NFL Totals | $350,140.00 | $42,140.00 | 12.0% | $0.00 |
| NFL Line | $143,070.00 | $3,070.00 | 2.1% | $0.00 |
| Mistakes | $16,280.00 | $590.00 | 3.6% | $0.00 |
| Total | $3,478,190.00 | $105,940.00 | 3.03% | -$26,010.00 |