July & August 2016 Monthly Review -$61,530.00
Year 7 has begun and the bank has taken an almighty pounding. I'm just now getting around to updating the results from the past 2 months. They are slow not because they are shocking and I am now officially in the worst draw down ever, but because there is so much else going on at the moment. I was hoping to have some amazing news next week, but we just missed out on what we were hoping to get into.
Let's talk about the past 2 months results first. If you had read my post about the worst losing AFL week I have ever had you could get a fair idea of how the past 2 months have gone.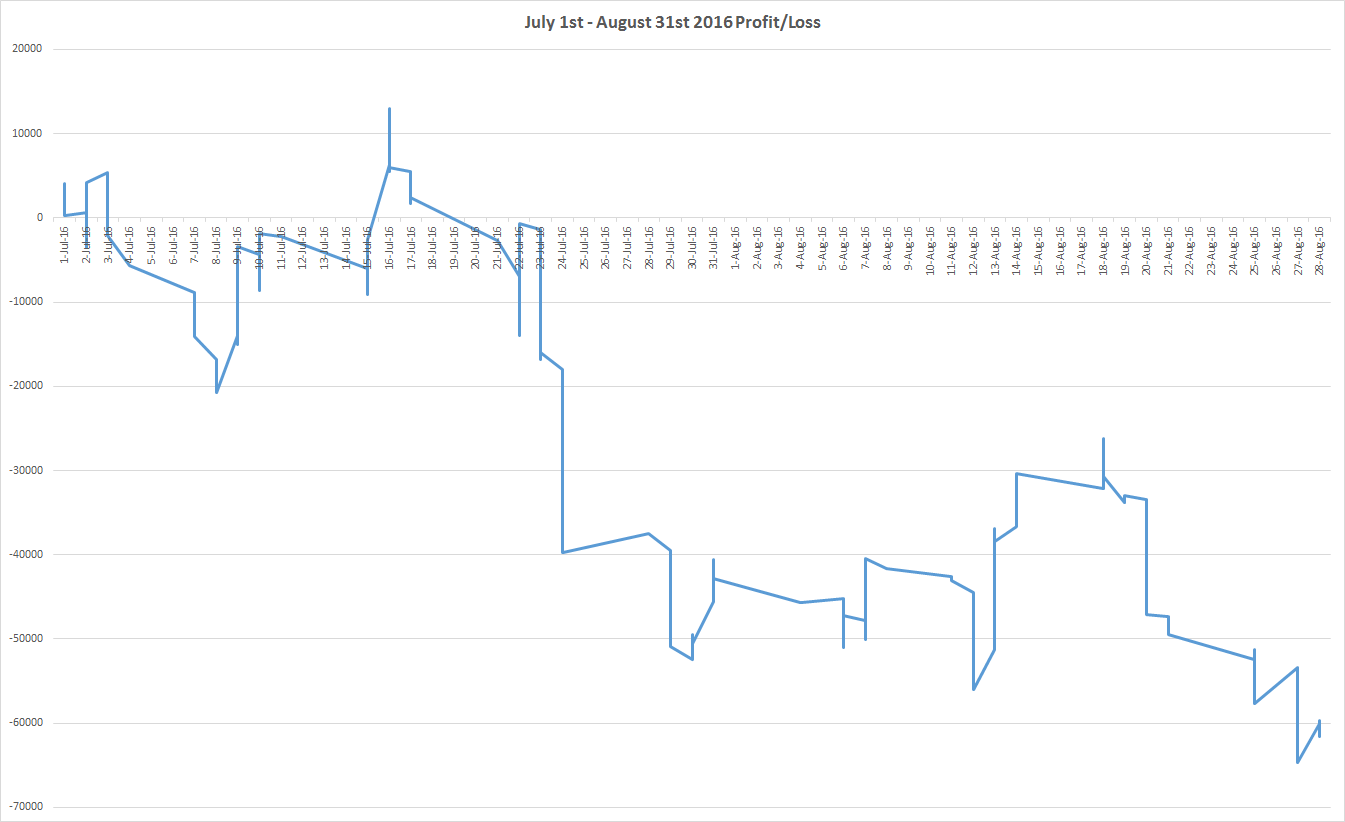 As you can see when only placing a few bets per week, the swings can be very large. In July and August I placed a total of 147 bets and won just 51 of them. I turned over $395,180.00 and lost $61,530.00 at a -15.57% ROI. With an average bet size of close to $3,000 this means it would take 20 more wins to break even.
Since hitting my peak profit of $510,000.00 in November while watching the Rugby World Cup in the UK, I have now lost over $225,000.00. I've had countless $50k draw downs and a few $100k ones, but this current run stretching the past 9 months is something new. It is never easy dealing with such big losses (and yes, it is easier when it's giving winnings back), but it hurts nonetheless. Ill have to win 70 more bets then I lose to get back to that $500k mark and with very few bets over the next few months, that is unlikely to happen for a long time. September will be a very slow month with the end of the AFL and NRL seasons and only the NFL to bet on, I doubt I'll place more than 60 bets. It's a very frustrating time at the moment.
AFL
This season will be the 2nd worst performing in the 17 years the H2H bets have been around and the worst (by far) of the 11 years the Line betting has been running. 2006 saw a -17.7% ROI for the H2H bets and they currently sit on -9.1% for this season. This will be the 4th losing season out of 17 for the H2H bets, but the good news is that the years after losing seasons have returned 20.6%, 21% and 14.3% ROI. The line bets have only had one losing season before this one and it was just -0.2%. This year it sits at -9.3%, so a real shock for the model.
I actually feel this is an opportunity for Jonno. There is no doubt he has the skills to see what went wrong and make the changes that need to be made for next season. But we also know that many people used his past data to copy his model and bet earlier than members. Now these guys might be able to copy a model, but do not have the experience to fix a model like Jonno does. They would have also taken a huge hit to their banks this year. I believe next season Jonno should not release numbers, just unit size bets and even throw in some wrong bets here and there to throw anyone trying to copy again. I know many members will bitch and moan, but if they want to keep a long term edge than action needs to be taken.
In July & August the H2H bets produced $90,250.00 worth of bets for a $34,470.00 loss at a -38.2% ROI. I won just 10 of 48 bets. The Line bets hit 23 of 52 bets and saw $213,170.00 turned over for a loss of $30,040.00 at a -14.1% ROI.
NRL
If only my bank was the same for the NRL as it was for the AFL. I'd be still sitting on a nice profit. Even 7 years into this and I'm still learning and having my bank heavily weighted to one model has produced great results in the past, but when a losing year like this comes along it really hurts. A more diversified portfolio will help in the future when something like this happens again.
The NRL produced $7,340.00 profit from $87,400.00 worth of bets for a 8.4% ROI. I won 18 of 44 bets.
Super Rugby & Mistakes
The Super Rugby ended with 2 losing bets for me and a loss of $1,710.00 and I bet on the wrong side of an AFL match and that cost me $2,650.00.
So a terrible start to Year 7 and it will be many months before I can hope to be back to break even. Falling under the $300k profit mark hurts, especially when not so long ago I was sitting on $500k. But that still averages out at almost $50k profit per year so no complaints yet. I'll see out the AFL and NRL season and be betting the NFL in September, followed by the NBA in October. With so few bets, it will still be very volatile so it will be a very interesting ride.
onto the good news
Now onto some better news. Smartbet beta(working title) was released to a small list of members and we have had over 100 people test out the product and give us feedback. This week I have finally nailed down a programmer for 20 hours per week which should accelerate the production of the platform. We plan to make Smartbet your one and only hub for all your betting needs, from pre-game analysis, odds comparison, bet placement and tracking, live score and in-play data. Attached to that will also be the worlds biggest betting community. It is the platform that I will dedicate the next 5-10 years to.
We applied for our first accelerator a few weeks back and from hundreds of applications we made the last 30, we went to Brisbane to pitch our idea in the hopes of making the final 10. Sadly we did not make it, but received some great feedback and made a lot of contacts. We will continue to build out the product and while it isn't needed, we will look to get into one of the better accelerators to help us quickly scale the product over the next year.
I'm really excited about building this product and I'll post updates as we go from our first paying customer to our first 100 and onwards till we exit for many millions of dollars (or fail miserably like most startups), either way it should make for another great story.
I've also been talking to a heap of other companies with great products in the betting space and hope to bring them to your attention over the coming months. If you have your own betting startup, don't hesitate to contact me and we can have a chat.
So the betting has been going terribly, but everything else is really exciting. I hope you've done better than I have over the last 9 months.
Total Loss for the past 2 months was $61,530.00
Stats Year 7
Total bet amount: $395,180.00
Profit/Loss: -$61,530.00
POT: -15.57%
Bets Placed: 147
Won: 51
Lost: 95
Half Payout: 1
Refunded: 0
Winning %: 34.9%
Total profit per day: $284,890.00 / 2253 = $126.45
Total Turnover: $28,422,010.00
Total ROI: 1.00%
| Sport/Tipster | Wagered | Profit/Loss | ROI | Jul - Aug P/L |
| --- | --- | --- | --- | --- |
| AFL H2H | $90,250.00 | -$34,470.00 | -38.2% | -$34,470.00 |
| AFL Line | $213,170.00 | -$30,040.00 | -14.1% | -$30,040.00 |
| NRL H2H | $87,400.00 | $7,340.00 | 8.4% | $7,340.00 |
| Super Rugby | $1,710.00 | -$1,710.00 | -100.0% | -$1,710.00 |
| Mistakes | $2,650.00 | -$2,650.00 | -100.0% | -$2,650.00 |
| Total | $395,180.00 | -$61,530.00 | -15.57% | -$61,530.00 |