October 2017 Monthly Review +$28,530.00
Back to winning ways thanks to the start of the NBA season. The last 3 years has been the same old story for the NBA, a massive gain early on, followed by smaller profits up until the new year. It wouldn't be the worst idea to bet big for the first month of the season and go back to regular stakes after that. I'm hoping this crazy run can continue, but a 32.3% ROI is not sustainable over more than a few hundred bets. October saw 1 final bet on the NRL model and for once, one of my mistake bets actually won.
In total, October saw turnover of $213,560.00 for a profit of $28,530.00 at 13.36% ROI.
I placed 168 bets over the month and won 91, lost 76, and had 1 refunded.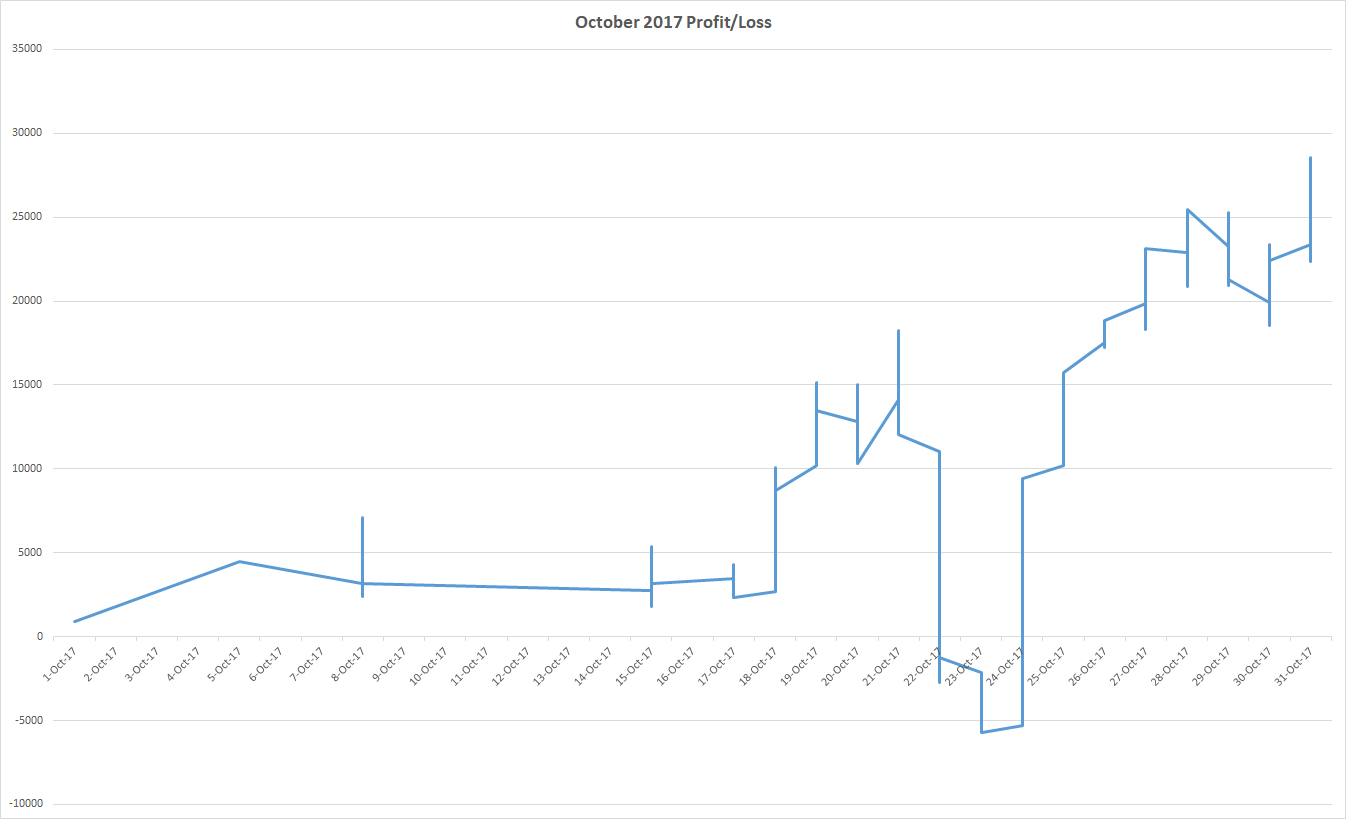 NBA
Let's start with the bad news. H2H betting has not lived up to expectations. I've placed 57 bets, turned over $57,210.00 and won $10. The slightly better news is that I have placed 65 Totals bets and turned over $94.990.00 for a profit of $30,670.00 at a 32.3% ROI. Jonno has always been strong with totals and they continue to shine with the NBA model. It's also great to be able to share the wins with Dailyprofit members.
NRL
There was a bet on the Grand final which ended up winning for $910.00 profit. The 2017 NRL season saw turnover of $427,010.00 for a profit of $24,600.00 at 5.76% ROI. Total betting saw turnover of $77,020.00 for a profit of $1,600.00 at 2.07% ROI. I'll happily take that profit every year.
NFL
We have now moved to only betting Totals for the rest of the NFL season. In October I turned over $57,120.00 and lost $4,360.00 on the NFL at -7.6% ROI.
The AFL and NRL will be back in 2018, between the two Aussie sports, I made $84,720.00 at 6.84% ROI this year. I made a conscious effort to move from high turnover & low ROI (1-2%) to lower turnover and a higher ROI (3-5%). While it has not been easy, I can see the plan on the cusp of bearing fruit. The time saved in chasing odds, placing and recording bets and watching them has been a real blessing.
Total profit for the month was $28,530.00
Stats Year 8
Total bet amount: $764,850.00
Profit/Loss: -$19,460.00
POT: -2.54%
Bets Placed: 424
Won: 210
Lost: 209
Half Payout: 2
Refunded: 3
Winning %: 50.1%
Total profit per day: $309,120.00 / 2679 = $115.38
Total Turnover: $31,013,070.00
Total ROI: 0.996%
| Sport/Tipster | Wagered | Profit/Loss | ROI | Oct P/L |
| --- | --- | --- | --- | --- |
| NBA Totals | $94,990.00 | $30,670.00 | 32.3% | $30,670.00 |
| NBA H2H | $57,210.00 | $10.00 | 0.00% | $10.00 |
| NFL Totals | $57,120.00 | -$4,360.00 | -7.6% | -$4,360.00 |
| NFL Line | $64,820.00 | -$3,000.00 | -4.6% | $0.00 |
| AFL H2H | $86,160.00 | -$6,660.00 | -7.7% | $0.00 |
| AFL Line | $176,340.00 | -$19,640.00 | -11.1% | $0.00 |
| NRL H2H | $181,540.00 | -$11,330.00 | -6.2% | $910.00 |
| NRL Totals | $40,300.00 | -$1,450.00 | -3.6% | $0.00 |
| Mistakes | $6,370.00 | -$3,700.00 | -58.1% | $1,300.00 |
| Total | $764,850.00 | -$19,460.00 | -2.54% | $28,530.00 |