Affiliate commissions: January 2017
This is a new monthly report I will be doing in 2017. As mentioned in a previous post, my goal for affiliates in 2017 is to build them up and by the start of 2018 have an average of $4,000/month ($48,000/year) in commission payments being generated from affiliates for this website.
Over 2017, a bit of work will be required to set up the affiliates, promote them and work out what works best. But from 2018 onwards, this should be fairly passive income. Once all the systems are in place, there should be very little extra work needed to be done, but the profits should keep rolling in.
Current bookmakers
I currently only have a few affiliates on the site. Feel free to sign up to any of them if you don't already have an account. By using my affiliates, you help this site grow and allow me to create more content.
What I did in January
This first month I wanted to test out how banners did. So added a few to the site to see if they would get clicks and signups. My assumption was that people are banner blind these days and either run adblockers or disregard ads. I was right. There were over 60,000 ad impressions in January and just 90 clicks and 1 signup. I could look to place them in better locations and also in blog posts, but I feel banner ads will not generate much interest.
I have found that blog posts generate far better conversions. As an example, this month I posted an article about the upcoming changes to Australian gambling laws and pointed to a few affiliates. I pushed Sportmarket the most in this article (as it is the best product) and 28 people signed up. So far only 2 have gone on to make deposits, but it won't be long before more do.
I'll test the banners for a few more months, but it is likely I can do something much better with the space they take up.
January Profits
At one stage this month, it looked like 1 bookie was going to pay me over $3,000 in affiliate commission, but in the last week of the month, my players made a fortune and that meant I made nothing from them. For me it's win-win. If my affiliated players win, I'm happy for them. On the months they lose, I make some profit to keep the site running.
As I am just getting started with most of these affiliates, I don't have many players signed up. Turnover and profits will be low.
I made a total of $283.10 profit in January.
Matchbook has changed their affiliate payment structure and it means they have to pay out less to affiliates. From now, if you do not send them 6 new players a month, you will only receive 10% commission compared to the 25% it used to be. 6 new customers is very hard to do, even for bigger sites. As I know I can't consistently reach that figure every month, I won't be bothering to advertise them.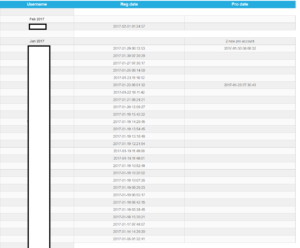 I mentioned earlier that I had 28 people sign up to Sportmarket. But the Sportmarket affiliate program is a CPA (cost per acquisition) scheme. I will receive €200 only when a player makes a pro account and turns over $10,000. So far 2 have created a pro account and funded it. CPA deals are not great for affiliates, as we just get paid once. But this article was produced to help punters who will no longer be able to bet off-shore and any profit made from it is a bonus.
Most of the profit came from just 1 affiliate this month. As I get more onboard and more players signed up, i diversify my portfolio and make it much more likely to have at least 1 or 2 affiliates pay me each month.
Plans for February
This month I will look to sign up to a few more affiliates and reach out to some to do one-off promotional posts. I've found that these usually work best. I will try and get Topbetta to do some sort of signup or post signup bonus for my readers and see how that performs. I also know that Ladbrokes is very proactive in this area and might see what they can offer.
I'll also start to build out my bookmaker review section, as a lot of other sites seem to do this and it can add value for readers.
Total profit for 2017
| Month | Profit | Cumulative profit |
| --- | --- | --- |
| January | $283.10 | $283.10 |
| February | $0.00 | $283.10 |
| March | | |
| April | | |
| May | | |
| June | | |
| July | | |
| August | | |
| September | | |
| October | | |
| November | | |
| December | | |